Tuesday, 19 March 2019 | Ravenol Marketing

RAVENOL ventured north of the border at the weekend to catch up with our new rally partners, the KNC Groundworks Scottish Rally Championship (SRC), at the Border Counties Rally, which became the defacto opening round following the cancellation of the Snowman Rally
Monday, 18 March 2019 | Ravenol Marketing

SportPesa Racing Point started the F1 2019 season as they mean to go on at the opening race in Melbourne with Lance Stroll finishing comfortably in 9th to bring home the team's first point of the season.
Monday, 11 March 2019 | Ravenol Marketing

This weekend's Border Counties Rally has become the de facto season opener for the RAVENOL partnered Scottish Rally Championship. Champion contender Garry Pearson, also partnered by RAVENOL, will be seeking to make his mark and bring home maximum points on his first rally.
Friday, 22 February 2019 | Ravenol Marketing

We're now at the end of the first week of Formula One testing at the Circuit de Barcelona-Catalunya and drivers Sergio "Checo" Perez and Lance Stroll have been working hard along with the rest of the SportPesa Racing Point team to make the RP19 "Pink Panthers" race ready.
Wednesday, 20 February 2019 | Ravenol Marketing

We're halfway through Week 1 of Formula One testing in Barcelona, and SportPesa Racing Point drivers Sergio "Checo" Perez and Lance Stroll are putting in some impressive times in the RP19 car.
Wednesday, 13 February 2019 | Ravenol Marketing

Formula One's newest team presented its fresh look today as Sergio Perez and Lance Stroll launched SportPesa Racing Point F1 Team in Toronto, Canada, in front of 200 media, hundreds of fans and select VIP guests.
Saturday, 9 February 2019 | Brian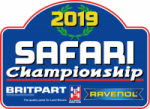 Together with our long-term partner, BRITPART, we will be the Title Sponsors of the AWDC Safari Championship 2019. Titled the AWDC BRITPART RAVENOL Safari Championship, it will have full TV coverage as well as individual round prizes donated by ourselves.
Monday, 4 February 2019 | Brian

After a season on the sidelines, Duns rally driver Garry Pearson will be aiming to get his season off to the best possible start this weekend as he returns to the Scottish Rally Championship for the opening round of the 2019 series, Coogie Urquhart Snowman Rally (9th February).
Tuesday, 29 January 2019 | Ravenol Marketing

RAVENOL are delighted to announce a technical partnership with the KNC Groundworks Scottish Rally Championship, one of the UK's leading Rally series.
Monday, 21 January 2019

RAVENOL's new team member Kirsty Hockly was awarded Driver of the Year 2018 award last weekend for the Manchester and Buxton Kart Club.