Bogie Scores a Birdie at the RSAC Scottish Rally
21 May 2019 | Ravenol Marketing

Multiple Scottish champion David Bogie scored a record-equalling sixth RSAC Scottish Rally victory after a supreme battle with 2nd placed Euan Thorburn in the RAVENOL partnered KNC Groundworks Scottish Rally Championship. Right behind them was RAVENOL partner driver Garry Pearson, picking up a podium and some vital points towards his own SRC quest.
The battles took places over 42 miles of gravel stages, including the iconic Twiglees, Castle O'er and Ae, through the legendary Eskdalemuir forests of Dumfries and Galloway.
Bogie started the day fastest, taking advantage of his opponents struggling in the changeable stage conditions, and was leading after the first few stages, but Thorburn and Pearson were only a few seconds behind. With condition better on the other side of the M74, Bogie's his work was almost undone as Pearson won the Windy Hill stage with Thorburn hot on his heels, until a stall at a hairpin lost him seven seconds to drop him into third.
Bogie's lead was up to eight seconds from Pearson at second service, but the Pearson struggled in the penultimate stage, losing 12 seconds to stage winner Thorburn. However, Bogie set an identical time to Thorburn through the final Castle O'er test to edge him out and take the rally win, with Person coming home in third, only 20 second off the pace.
"It's a great achievement, but I'm under no illusions that it's a far shorter event than it was when Roger Clark got all those wins all those years ago," said Bogie of his record-equalling victory. "But nevertheless, it's my local rally, the one I wanted to win so it's an achievement I'm very proud of.
"The stages were a real mixed bag from wet, dry and slippy and of course the added challenge of loose rocks as well but we're very happy, it's always good to spray the champagne in front of family and friends."
Despite coming second, Thorburn was able to extend his championship lead ahead of Pearson.
"We're frustrated a wee bit," admitted Thorburn. "We obviously dropped that time at the hairpin in Ae which was my fault, without that it probably would've been a different story. It is annoying [to lose 100% record] but we've won six on the bounce so we can't complain.
"When everything is working fine we go well and we are competitive so I'm looking forward to the next one."
With Bogie unlikely to compete in all the remaining rounds, the challenge is on for Pearson to claw back as many points as possible in the second half of the season.
"We worked really hard for this result today and I'm really over the moon to grab third place against some of the most experienced drivers out there today," said Pearson. "We didn't quite have enough pace this afternoon to make our second-place stick, but you know these guys are out every single weekend, so with the limited amount of seat time I get in the Fiesta, I'm really happy with third today".
"I knew that a good result today was going to be critical to stay in the running for the championship, so we have certainly delivered that today. The [Argyll Rally] should suit us well as the stages are very technical so I'm excited to see how we perform there. As long as we keep proving ourselves then I'm sure the results will come."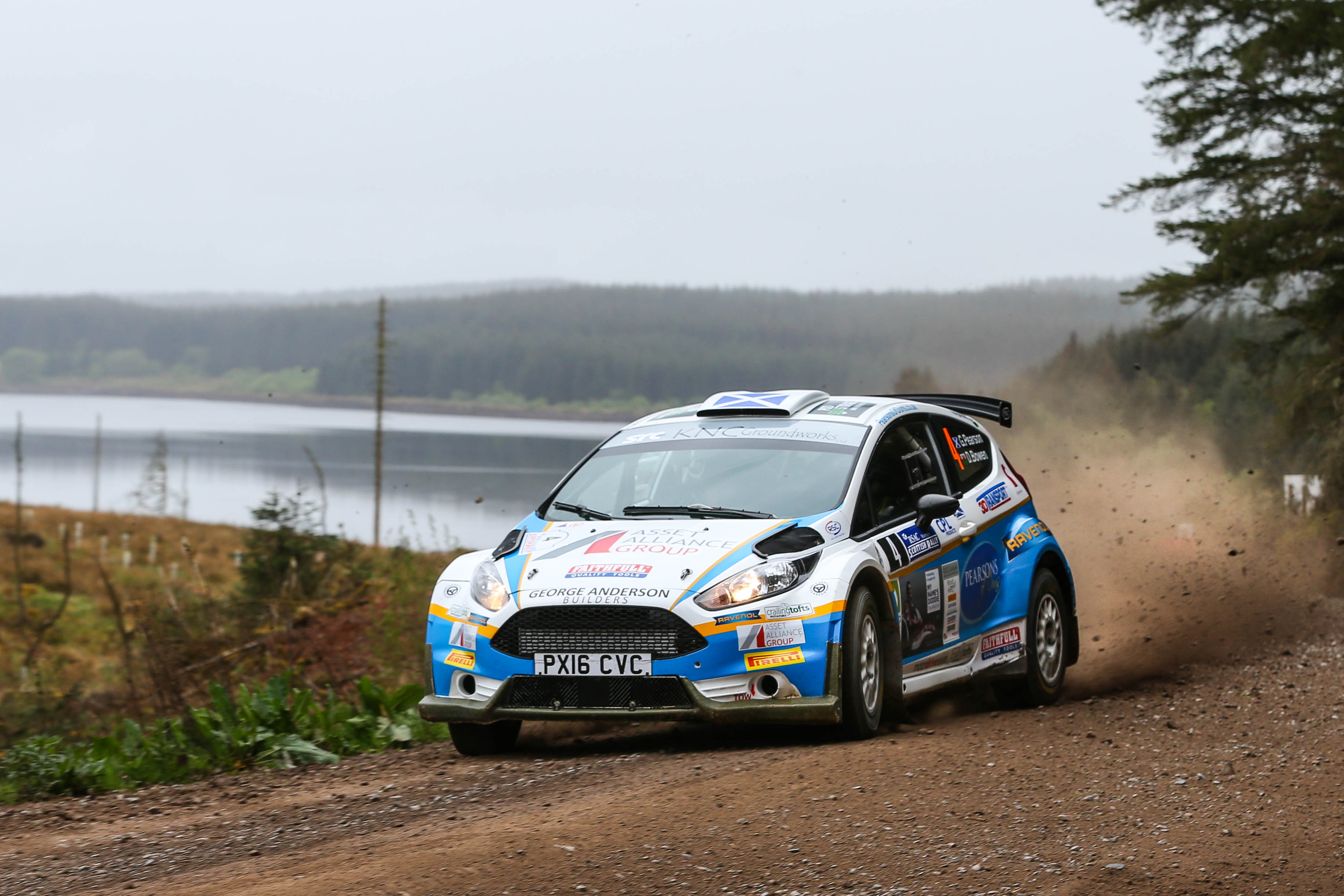 Meanwhile, in the Albyn Garage SRC Challengers series, MacBeth and Forsyth bagged top honours ahead of Morris and Mallin. In the Scottish 2WD Championship, Iain Wilson and Chris Williams stole the show in their Ford Escort Mk2, beating Duncan MacDonald and Neil Ross' Escort by 28 seconds. And in the Junior category, Jude MacDonald took the honours for the second round in succession in his Skoda Fabia R2.
So that concludes an exciting RSAC Scottish Rally. The next round of the KNC Groundworks Scottish Rally Championship takes place at the end of June in Dunoon for the third running of the Argyll Rally on Saturday 22nd May. We look forward to catching up with more nail-biting rally action then.