BTC Norlin Race Report - Thruxton
24 May 2018 | Ravenol Marketing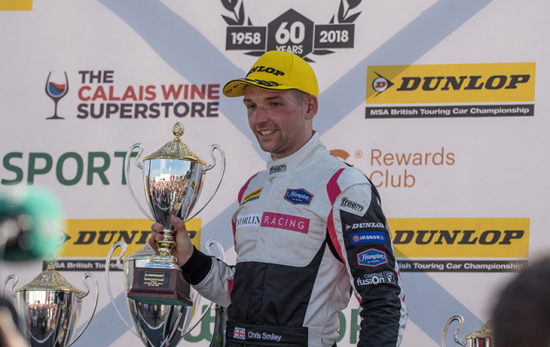 It was a mixed weekend for our partners BTC Norlin when they traveled to Thruxton Circuit for Rounds 7, 8 and 9 of the British Touring Car Championship. Chris Smiley put on a consistent drive, finishing in the top 10 in all three races, whilst his team mate James Nash fought to make the best of a weekend that wasn't going his way.
Chris started Race One in 9th, but managed to make his way up to 8th by Lap 4, until it was taken back a few laps later by a persistent Brett Smith in the Eurotech Honda. Following that, a mistake in the penultimate lap saw him drop down to 10th, with no time left to make it up. James started back in 22nd, having struggled in qualifying the previous day. The team made some tweaks to the settings but couldn't improve the feel of the car for James and he crossed the line in 23rd.
In Race Two Chris started from 10th, with James further back in 23rd. With James and the team still struggling to optimise the setting of the car, he lost a couple of places off the start, but finished a lot more strongly, successfully making his way back through the grid. He managed to pick of 6 cars ahead of him before he had to back off due to an overheating engine. Chris meanwhile had made his way up to 8th before he had a coming together with Ciceley Motorsport's Adam Morgan dropped him back down to 9th. He was then passed by Jack Sears Trohpy rival Jack Goff in his Eurotech car, but successfully held onto 10th for another points finish.
Following the withdrawal of Andrew Jordan on medical grounds, Chris started 9th on the grid for Race Three. He got another good start and moved up to 8th, holding off Simpson Racing's Matt Simpson for 9 laps, until a charging Tom Ingram approached in his Speedworks Motorsport Toyota. Chis crossed the line in 9th, claiming the Jack Sears honours for the day.
"It was a solid day at Thruxton Race Circuit" he said after the race. "I'm very happy with three top ten finishes and the lead in the Jack Sears Trophy! We missed the official test at Thruxton last month, so I couldn't have done much more. I'm really looking forward to Oulton Park in three weeks' time!"
Further back on the grid and still struggling with setup, James started the final race of the day in 20th. He sustained damage on the opening lap and did well to bring the car home in 23rd, despite damage to his rear wheel.
"I would though like to thank Dunlop for making such robust tyres," said Nash after bringing the car home in the final race of the day. "I had a vibration to manage in race three after the opening lap clash but I had absolutely no idea that one of the rear wheels had been smashed. How the tyre stayed on for the next 15 laps when we were pushing 130mph through Church Corner I'll never know but I am very grateful that it did!"
"It was a very frustrating weekend for me, but I am looking forward to working through the problems so that we can bring a better package to Oulton Park in three weeks' time".
BTC Norlin Team Manager Bert Taylor added "That was quite a weekend! I am really pleased that Chris managed to get three top ten finishes, as well as winning the Jack Sears Trophy, he has proved that he belongs at the sharp end of the grid. He is now leading the Jack Sears Trophy, and achieving a solid points finish for each race is exactly what we hoped for this weekend.
"James has had a challenging weekend, but I am confident he will bounce back for Oulton Park. As I have said before, we are an ambitious team, and will be working to ensure that Oulton provides us with further steps forward."