7 September 2020 | Brian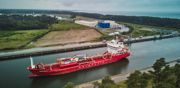 Lubmin, 13 August 2020 – Deutsche Ölwerke Lubmin GmbH, part of the RAVENOL Group, celebrated yet another corporate milestone: the commissioning of the new jetty.
19 June 2018 | Ravenol Marketing
This year RAVENOL is the official lubricant partner of this 26th Gerry Weber Open, a top-class tennis tournament held in Halle, Germany, and part of the part of the ATP World Tour
4 May 2018 | Ravenol Marketing

RAVENOL's giant oil can at the Hockenheimring in Germany has had a Formula One style make over in time for this weekend's DTM season opener at the circuit.
22 March 2018 | Ravenol Marketing

RAVENOL is please to welcome our new Marketing Manger, Tobietta Rhyman, to the UK team.
1 Comment
20 December 2017 |
Brian
If you go down to the woods today..........
19 December 2017 | Brian
We wish you all a very Merry Christmas and a brilliant New Year - the future is golden!
1 December 2017 | Brian
Ralf Schumacher, younger brother of ex F1 World Champion Michael Schumacher, joins Ravenol.
16 November 2017 | Brian

In the first of a new series our charismatic (and very attractive) roving reporter Victoria chats to Mick Schumacher about the importance of using a top quality lubricant.
8 September 2017 | Brian
RAVENOL has become involved in one very exciting project: That is the Automotive Trans-Arctic Expedition, a journey to the North Pole being made by eight Russian daredevils in specially adapted Burlak all-terrain vehicles.