Davies and Williams Fly High at Red Kite Stages
26 June 2018 | Ravenol Marketing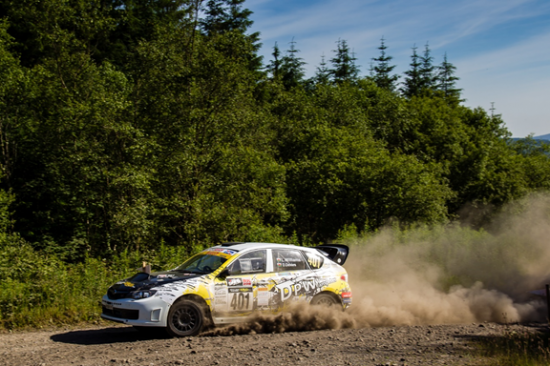 A first maximum points score of the season means that Dylan Davies and Llion Williams retain the lead in the Pirelli MSA Welsh Forest Rally Championship with five of the eight rounds completed.
With the two-wheel drive and four-wheel drive machinery tackling the Red Kite Stages separately, it was Osian Pryce and Dale Furniss who took the initial lead in their historic specification Mark II Escort. It looked like being two wins out of two until Davies and Williams completed the same five stages in their Subaru Impreza that the two-wheel drive competitors had tackled earlier in the day. When they returned to the finish at Resolven, they had pipped Pryce and Furniss by 26 seconds. With the Escort mounted duo finishing in second place, third went to the Impreza of Wug Utting and co-driver Bob Stokoe, while Scott Faulkner and Gareth Parry were fourth in their Mitsubishi Lancer Evo IX.
Will Rogers, partnered with Paul Barrett, finished second among the two-wheel drive co-drivers in their Mark II Escort, ahead of the Mark II Escorts of Steve Bennett and Osian Owen, and Rudy Lancaster and Guy Weaver.
With Davies and Williams leading the title chase, Wug Utting and Bob Stokoe hold second place, three points clear of Pryce and Furniss. Utting and Stokoe also top the Group N standings, for less modified cars, ahead of Kalvin Green who was forced to retire his Ford Fiesta with a broken stub axle.
Despite his retirement, Kalvin Green continues to lead the junior category ahead of Matthew Hirst, who was also a non-finisher. Osian Owen is currently top placed junior co-driver, 10 points clear of Keaton Williams, who is one point ahead of Gareth Parry.
In the RAVENOL Welsh Challenge for drivers who have not finished in the top 10 overall on a Championship round, Max Utting tops the table ahead of Matthew Hirst and Colin Griffiths. In the co-driver category, it's Declan Dear who heads the field from Dei Jones and Alan Proudman.
The next round of the Championship is the Nicky Grist Stages on July 14th. The event, organised by Quinton Motor Club, is based in the Royal Welsh Showground with a Town Centre start in Builth Wells. For more information, please visit the rally website: www.nickygriststages.co.uk
Photo c/o Rally Sport Media