Eurotech Unveils 2018 Cars at Donington Media Day
29 March 2018 | Ravenol Marketing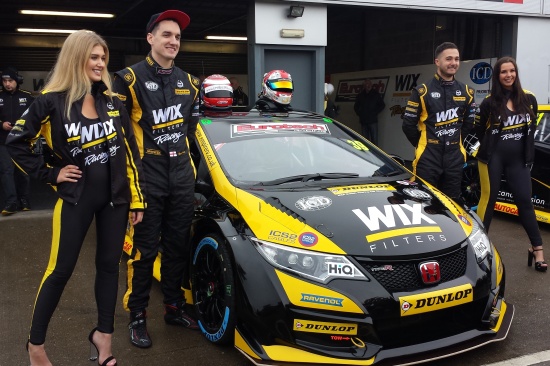 RAVENOL were pleased to attend the unveiling of Technical Partner Eurotech's stunning new WIX Racing livery on Tuesday at the British Touring Car Championship (BTCC) Media Day held at Donington Park.
It was a great opportunity to check out the eye catching black and yellow WIX Racing design on the Honda Civic Type R cars, a perfect backdrop for the blue RAVENOL logo on either side below the headlights.
In the driver's interview, Jack Goff also spoke about how impressed he was with the design. "I think the livery looks fantastic on the Honda Civic Type R. We're excited to get out there and continue where we left off and improve on the weaknesses from last year."
But it hasn't all been plain driving for the Eurotech team. Brett Smith was only called up halfway through the 2017 season following a bad accident which hospitalised his father, Eurotech's former lead driver Jeff Smith. Whilst we're pleased that Jeff is doing well on his road to recovery and still very much involved in running the team, it's left a very big pair of race boots for son Brett to fill.
"It's difficult as a rookie," he admitted. "Even if you have 4 or 5 days pre-season testing it's still difficult, doing testing in public, but that level of pressure didn't make me crumble. I think it was quite positive."
Even testing over the winter plan didn't quite go as expected, with the 'Beast from the East' bringing artic weather to the south of Europe, as well as across the UK.
"We went away over the winter and did some warm weather testing in Spain – I built a snowman!" Jack joked. "That was about as much as we did over there. But we've got a good platform to work on from where we were last year."
RAVENOL are looking forward to following the progress of Jack, Brett and the rest of the team as the season gets underway. The first race is 7-8 April at Brands Hatch. Fans wishing to cheer Eurotech on can buy their tickets here.