Eurotech Race Report - Oulton
12 June 2018 | Ravenol Marketing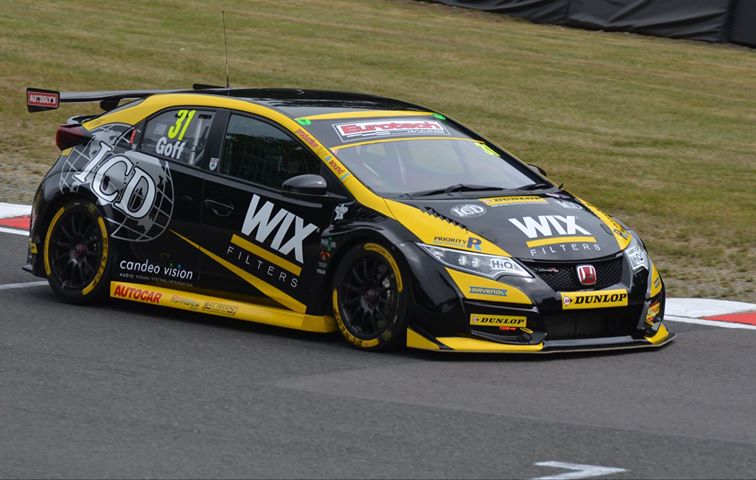 RAVENOL's BTCC partners Eurotech now top the Independents after a successful weekend at Oulton Park, where Matt Simpson led from start to finish in Race 1 to bring home his first win.
Right from the start, Matt Simpson and Brett Smith were topping the lap times in Free Practice 2. The Eurotech Honda Type R's dominated qualifying with Matt putting in a storming lap to take his maiden Pole Position. Jack Goff ended Saturday in P6 lap, despite carrying 48kgs of ballast, and Brett qualified in P7.
All eyes were on Matt for Race 1, starting on pole for the first time, but he kept his cool and made a textbook start, pulling clear of Sam Tordoff. He was comfortably in front for the whole race, until smoke started coming from the car in the latter stages of the race. Despite an obvious problem, he managed to keep the Type R out in front, despite pressure from Tom Chilton, and took his first BTCC win. Further back, Jack and Brett were under attack from the BMW's of Colin Turkington and Rob Collard for much of the race. The pair finished in P8 and P11, both adding to the team's points tally.
After the race, Matt said, "I had to get away cleanly into turn one and managed to get there in the lead. I saw Tom Chilton looming but I held on – I'm over the moon as it's a dream come true."
Unfortunately the smoke coming from Matt's car turned out to be an engine problem that could not be rectified, forcing a gutting retirement for the remainder of the day.
In Race 2 Brett was also struck with bad luck, being spun off the circuit into a precarious position at the hairpin, narrowly avoiding being collected by oncoming cars. He recovered and started to make his way back up the pack, finishing the race in P19. Jack fared better, holding on to a P8 finish and gaining some more points.
The drama continued in Race 3 – the race was red flagged almost as soon as it started due to a multi-car accident on the start/finish line, immediately in front of Brett, which he did really well to avoid. After the restart, he made strong progress up in to a points scoring position but was later issued with a five second drive-through penalty for stopping outside of his grid box. A frustrated Brett set out after the pack, setting the fastest lap of the race and managing to get his Type R back up to finish in P18. Jack meanwhile was making some great overtakes to get himself in front of the two Motorbase Fords and finished in a fantastic P4 behind the three WSR BMW's.
Despite a very up and down weekend, Eurotech are now at the top of the Independent Teams Championship, and Jack has moved up to joint second place in the Drivers Championship and leads the Independent Drivers Championship, having scored solid finishes in every race.
"Overall it was a good weekend," he said. "Heading into qualifying with 48kgs we knew it would be pretty tough, as Oulton Park is probably the worst track to carry ballast, so to finish P6 I was pretty happy. The first two races were a bit of damage limitation then in Race 3 to finish P4, top independent and first FWD Car, was a good way to end the weekend.
"Looking ahead to Croft we know it's going to massively suit the RWD Cars, so we will be looking for a similar weekend to Oulton Park and to go into the summer break in a solid position in the championship."
Photo c/o TJF Imaging