Force India Abu Dhabi Race Preview
22 November 2018 | Ravenol Marketing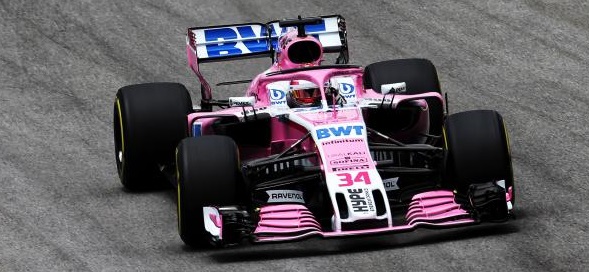 It's finally the last race of the season and our F1 Technical Partners Racing Point Force India are at the Yas Marina circuit in the United Arab Emirates for the Abu Dhabi Grand Prix. It's their last chance to pick up some points this season and we know the team will be giving it their all, so what does the track have in store and how well can we expect them to do?
The race starts as the sun sets over the desert, and despite the high daytime temperatures, it can quickly get cold once the sun's below the aeros. Eerily shaped like a machine gun, there are some really long straights for the cars to rocket along, plus a couple of sharp hairpins to keep the drivers on their toes. The rest of the track is short straights leading into angular right handers, linked by open curves which should provide for some interesting overtaking attempts.
The circuit is hard on brakes and the slow corners mean a low chance of a safety car, though that's not to say that contact doesn't happen and we've all seen what that can lead too! But don't worry about that red mist – it's only an optical illusion from the setting sun and should be over a few laps into the race once it gets dark.
As usual, we caught up with Force India's Drivers' Eye to find out what Checo and Esteban have to say about the last race on the 2018 F1 calendar:
"I enjoy the Abu Dhabi race. You drive into the sunset and when all the lights come on it looks really cool," Checo said. "It's a track that is very hard on the brakes, with a lot of emphasis on traction out of some slow corners. You need a very stable car at the rear to make the most of those braking areas. There are some unusual corner combinations that are interesting in the car and there are overtaking chances at the end of both long straights, so you often find yourself either attacking or defending, especially towards the end of the race.
"It's a track where we have been competitive for the last few years and I would love to end the season with a strong result. I am still aiming for seventh place in the drivers' championship. I know it is going to be hard, but on Sunday anything can happen and I want to be ready if the chance is there. The team is also aiming for sixth place in the constructors' so we need to deliver a perfect weekend."
His team mate Esteban added, "It's always a bittersweet feeling when you get to the end of the season, but the main motivation is to finish on a high, especially when there is so much at stake in the championship. The last couple of races have been very disappointing, but there's still one last chance to score a good result before the end of the year."
And as a special treat, here's is Force India's lap preview, brought to us by Hype Energy eForce India driver Mads Sørensen: