Force India Race Preview - Canada
7 June 2018 | Ravenol Marketing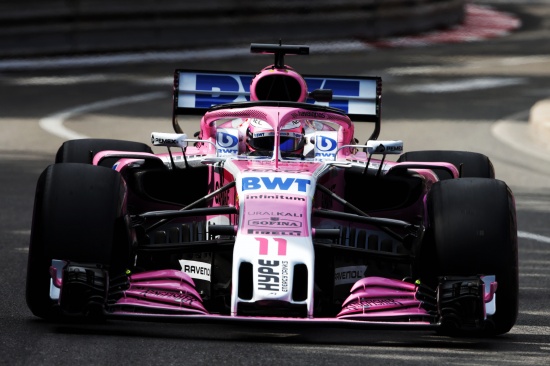 This weekend our Formula One partners Force India are heading across the pond to Quebec, Canada's French speaking region, for the Canadian Grand Prix. The race is hosted by central Montreal's Circuit Gilles Villeneuve, infamous for the so-called "Wall of Champions" – the sharp Turn 13 at the end of the long straight, which has caught out many a former Championship contender!
The long straight and sharp corners create an energetic, fast-paced circuit with higher fuel consumption and brake wear. The walls are close to the track at points, and not all the fast corners have run-off areas. Added to that mix Pirelli's tyre choice – faster paced, high degradation Supers, Ultras and Hypersofts – and one can anticipate a high-speed, drama packed Canadian Grand Prix complete with pit strategies and near misses galore: the perfect F1 fix for bored fans following the procession in Monaco.
Still buzzing off his 6th place finish in Monaco and feeling right at home speaking his native language, French driver Esteban spoke to Force India's Driver's Eye, who managed to squeeze a few words out of him in English:
"I am feeling very happy after Monaco. It's great to finally get a good result after a few difficult races and I feel my season has only truly started now," he said.
"The Montreal circuit is definitely one of my favourite tracks and it's a fantastic event. The atmosphere in the city is great: the whole of Montreal becomes a giant motorsport festival. You feel the energy and excitement everywhere in the city.
"I always say I like chicanes and that's almost all you have in Montreal. It's a challenging and very technical track and I really enjoy driving on it. My favourite corner is the final chicane, with the Wall of Champions so close to you. It's a very tricky corner and it's very easy to get it wrong."
Team mate Checo was disappointed by his 12th place finish in Monaco, but like Esteban he's also cautiously optimistic about this weekend's chances:
"I have some very good memories from Montreal. I finished on the podium there in 2012 in one of the most exciting races of my career, and I've had some other strong performances there, including last year," he told Driver's Eye.

"The track itself is not easy. There are a few corners that can easily catch you out and it's difficult to get a clean lap. My favourite part is the final chicane: you arrive there from a very long straight and you have to jump on the brakes and be really precise. It's easy to make a mistake and the Wall of Champions is there with no run off. A mistake can cost you the whole lap, or the whole race even, because there is no margin for error."
We're sure both sides of the garage are reassured to hear that the drivers' favourite part of the circuit is the car smashing Wall of Champions.
And before we go, don't forget Canadian native Nicolas Latifi, Force India's reserve driver, will be making an appearance in Free Practice 1 in front of his home crowd.
"I have no doubt that driving in the FP1 at my home Grand Prix will be one of the biggest highlights of my year!' he said. "As much as I will be looking to enjoy the opportunity I know I am there to do a job for the team. I'm hoping to give them as much valuable feedback as possible to help push along the program going into FP2."