Force India Race Preview - Singapore
13 September 2018 | Ravenol Marketing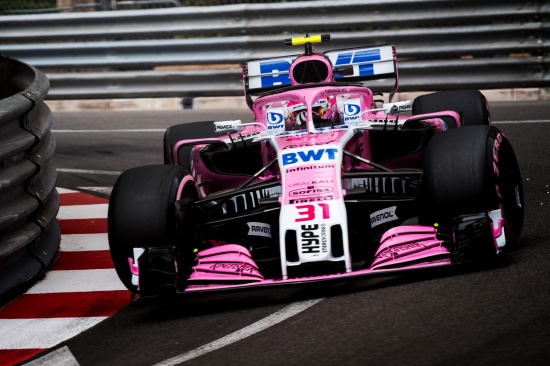 With the European races over, our Technical Partners Racing Point Force India are now in Singapore for this weekend's grand prix. Nicknamed the Monaco of the East, Singapore's night race and street circuit automatically make it one of the most exciting races on the calendar. Added to that the ultra-modern city skyline as a backdrop to the circuit and it's not hard to see why the island-state is a favourite among fans and drivers alike.
Being a street circuit in a modern city, there are a lot of 90° corners and walls very close to the edge of the track. With little space for run off areas, there's a high chance we'll see a safety car in Singapore, which keeps the teams' Race Engineers on their toes. Since 2008, every race has featured a Safety Car.
Force India have had some good luck and bad luck with Safety Cars this season, but the recent run of form with two double points finishes in a row will be adding more pressure on the Race Engineer. Getting the timing right with Safety Car pit stops can propel you up the field with fresh tyres for the restart. But hold out too long and the tyres will start to degrade, leaving you vulnerable to attack from team's who've taken the pit stop plunge.
In addition, there is the upgraded aerodynamics package that Force India are introducing this weekend. Whilst the team expects this to make the cars more competitive, it hasn't actually been tested yet, so Friday's free practice will be the first time the team gets real data on its performance on the car.
In the cockpit there are also added pressures. Despite the night race, temperatures and humidity in the tropics linger well into the night, so hydration is key and must be monitored through the weekend. In addition, the slower average speeds and safety car periods make Singapore one of the longest races of the year, time wise. Driver training needs to be increased in the weeks leading up to this event so they have the stamina to cope with the temperatures for extended periods of time.
We caught up with Force India's Drivers' Eye to hear what drivers Sergio "Checo" Perez and Esteban Ocon had to say:
"Singapore is a special event and I don't think there's any other race in the world like it. The city is buzzing and the circuit looks amazing when all the lights are on," Checo said.
"The Marina Bay Circuit is one of my favourites because I have scored points every time I've raced there. That's seven times from seven races and I'm looking forward to making it eight out of eight. I love driving street circuits because you have to be aggressive and accurate, and Marina Bay is the type of track where you can make a difference as a driver.
"Being so close to the walls is always challenging but it's fun as well. With the wide cars it's tougher to overtake, but is not as tight as Monaco and there is enough space to make some overtaking moves."
"The Singapore race is a fantastic event. Night races are always different and there is the added challenge of a street circuit," Esteban added. "I admit I am not the biggest fan of the track layout, but it is a very challenging one. There are so many corners and lots of places where you can gain time or make a mistake, so it's difficult to put together a perfect lap. My favourite part is the final sector where you have to get really close to the walls.
"We are bringing an upgrade to this race and we look forward to testing it on Friday. If we can get everything working properly then hopefully we can keep our position at the front of the midfield."
We certainly hope everything comes together like a well timed pit stop this weekend. But to get you in the mood, here's Force India's latest lap video – produced by none other than their e-sports driver Marcel Kiefer. We challenge you to watch it without getting dizzy from all the corners!