Sergio Perez Makes Outstanding Comeback in Abu Dhabu
26 November 2018 | Ravenol Marketing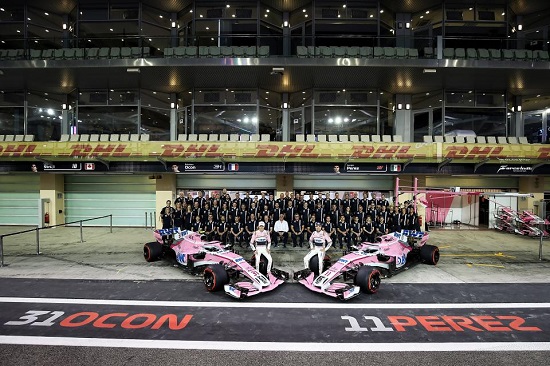 Force India driver Sergio "Checo" Perez had an outstanding drive in Abu Dhabi for the last race of the season, coming home in 8th after starting from 14th on the grid, whilst team mate Esteban Ocon heartbreakingly had to retire when he was running in the points places.
Both drivers got a good start off the grid with Checo making up several places and Esteban right up behind Renault rival Nico Hulkenberg. Then there was a shocking moment as Hulkenberg's car flipped off Romain Grosjean's Haas and tumbled into the barriers, leaving him stranded upside down in a smoking car. A Safety Car was brought out as the marshals raced over with extinguishers, but thankfully Hulkenberg was okay and they managed to extract him from the car.
By this time both Force Indias were running in the points with Max Verstappen sandwiched in between. As soon as the race restarted on Lap 4, he was after Esteban, going for the overtake and this time was given plenty of room, but Esteban wasn't finished and fought back, allowing Checo to get past Verstappen too. Unfortunately that didn't last more than a few corners, but before Verstappen could get past Esteban there was a great battle between the pair, leapfrogging each other with such skill but thankfully no contact.
A few laps later, front runner Kimi Raikkonen was forced to pull his Ferrari over with a power failure, thus ending his last race with the Scuderia. Race leader Lewis Hamilton took the advantage of the ensuing Virtual Safety Car to make a quick pitstop, coming out behind Verstappen, but made short work of him once racing got underway again. Meanwhile further back behind Checo, a fight was brewing between Carlos Sainz and Marcus Ericsson, allowing Checo to break away out of DRS range. Once back up behind team mate Esteban, the Force India drivers switched places, leaving Esteban with the job of fending off Sainz, who had finally got past Ericsson. Sainz made a move under DRS but Esteban was unshakeable and held him off for a couple more laps until he came into the pits on Lap 19. Esteban rejoined the race at the back of the pack, and despite quickly making up places on Brendon Hartley and Sergey Sirotkin, it seemed like a mammoth task to get back into the points from there.
As the rain started to fall in Abu Dhabi, though not hard enough to warrant Intermediate tyres, Marcus Ericsson's Sauber started to have issues and he was the third retirement of the race. Checo came into the pits a lap later and rejoined the race in 11th after a slowish 3 second stop. He got straight on after Kevin Magnusson and took him a lap later on fresh tyres. Meanwhile Esteban was challenging Grosjean for 14th, which became 13th as Fernando Alonso pitted. Grosjean was being held up by the other McLaren driver Stoffel Vandoorne, and finally got past. Esteban tried to follow too, but Vandoorne came back under late breaking. They were three abreast, then Grosjean was squeezed out and ended up behind Esteban. The Force India driver came back at Vandoorne and there was another great battle with drivers leapfrogging each other, until Esteban went right the way round the outside to finally get the move done, but he then went wide off the track. Even though he had made the move before he went off, the stewards deemed he had gained an advantage and gave him a 5 second time penalty.
Back at the front, Mercedes driver Valtteri Bottas was having a few issues and locked up, allowing Sebastian Vettel to squeeze his Ferrari past. Verstappen also fancied a move and literally nudged Bottas out the way, followed up by his team mate Daniel Ricciardo, dropping the Finn down to 5th. Concerned about a power issue, the Mercedes team called him into the pits.
As the race entered its final quarter, Lance Stroll and Kevin Magnusson finally pitted, moving Esteban up into 9th with a chance of a points finish. Then on Lap 46, disaster for the French driver. Smoke was visible out the back of the Force India and he was forced to retire. He made it back to the pit lane but on entering his back wheels seized, forcing the marshals to grab a set of dolly wheels to move the stricken car back to the garage. He was joined a few laps later by Toro Rosso driver Pierre Gasly as his engine blew and he was forced to pull off the track, making it 5 cars out of the race.
In the last few laps Checo managed to close in on Charles Leclerc, but was unable to get close enough to make a move before the chequered flag. So it was 8th for Checo and four very well deserved points after such a great comeback, taking him to 8th in the drivers standings, and Force India to 7th in the constructors' standings.
So with Abu Dhabi done and dusted that's the F1 season over for us and our Technical Partners Racing Point Force India. We wish Esteban all the best in his new role with Mercedes and look forward to welcoming Lance Stroll to the team alongside Checo for 2019. See you all then!