Force India Shine Despite Suzuka Challenges
8 October 2018 | Ravenol Marketing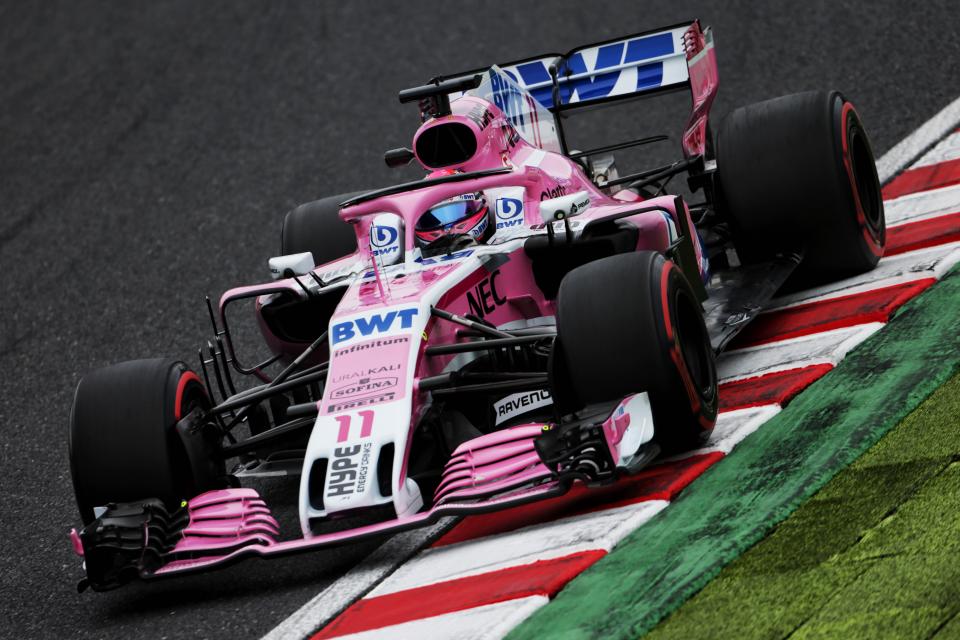 Our F1 Technical Partners, Force India, have continued their impressive run of form with another double points finish at Suzuka in the Japanese Grand Prix.
The weekend didn't all go as planned though – the changing conditions meant a cold Friday Practice, a wet Saturday qualifying, followed by a warm and dry Sunday race. To top it off, Esteban Ocon was given a 3 place grid penalty for failing to slow for red flags, at a circuit where grid position is important due to the overtaking difficulties. Thankfully both drivers got away to a good, clean start and were able to make up a couple of places, until Sergio "Checo" Perez was overhauled by Ferrari's Sebastien Vettel, who had started out of place in 9th.
Shortly after there was a brief Safety Car period, after Sauber's Charles Leclerc and Haas's Kevin Magnusson came together, causing debris to spill all over the track. But so early in the race there were few diving into the pits for tyre changes, other than Magnusson and Leclerc.
After the restart, Daniel Ricciardo, who had also started further down the field, was quickly pressuring Esteban and took 9th from him. Meanwhile just ahead, the charging Vettel ran into Ricciardo's team mate Max Verstappen, causing him to spin and drop all the way down to 19th.
After the pit stops, once the faster cars were out the way, the two Pink Panthers set about clawing their way up the field. Marcus Ericsson was first on Checo's list, followed by Charles Leclerc, where he then had to take evasive action to avoid Romain Grosjean exiting the pits.
Ocon also soon dispatched Ericsson, but was forced to back off from challenging Leclerc as Vettel's Ferrari came through once more. He had to wait a couple of laps, but eventually got the move done. Unfortunately it was all for nothing as Leclerc was forced to retire with a mechanical problem a few laps later.
Carlos Sainz pitting his Renault took Esteban up to 9th, whilst team mate Checo managed to get past Grosjean's Haas, taking him up to 7th. Esteban did manage to catch up before the end of the race but was unable to get past before the chequered flag. But all in all, it was a great result for Force India. given the way the team was able to capitalise on other teams' inability to react to the mixed conditions over the weekend. Checo and Esteban also both had great drives, both showing us some brilliant overtakes despite the single, short DRS area.
So here's what the two of them had to say about their time at Suzuka for their Drivers' Eye interviews:
"Today we had a good result: the best I could realistically hope to achieve," Checo told them. "After yesterday's poor qualifying we made up a lot of positions and I feel we really got the maximum from the race. Our pace was strong and the team delivered a great strategy.
"We knew we had to be aggressive to beat the Haas and we nearly managed to undercut Grosjean at the pit-stop, but I lost a bit of time battling with Leclerc and I just fell short. At the VSC restart I managed to get really close to Grosjean and when I saw an opportunity I went for it. I am so excited about our performance today. We had to push hard and make some good overtakes: it was a fantastic race."
"The team scored some good points today, but I'm not totally happy because our final result was dictated by the penalty yesterday," Esteban added. "We have shown great speed all weekend – as the fourth quickest team – but if we don't start higher up it's difficult to show it in the race. There were some fun moments today and I had to make a lot of overtaking moves. When you had fresh tyres there was a big pace advantage and our strategy paid off in the end. I was close to catching Grosjean during the final few laps, but there wasn't a chance to make a move."
Next up is Austin, Texas, in a few weeks time for the USA Grand Prix on the 21st of October. So after this weekend's early start, you'll need to reset yourself for a late one as lights out is at 19:10 UK time. If you can't wait that long, the inaugural e-Formula One Pro Series starts on the 10th of October, where you can catch e-Force India drivers Marcel Kiefer, Mads Sorensen and Fabrizio Donoso Delgato in action in their e-Pink Panthers.