Force India Race Report - Monaco
28 May 2018 | Ravenol Marketing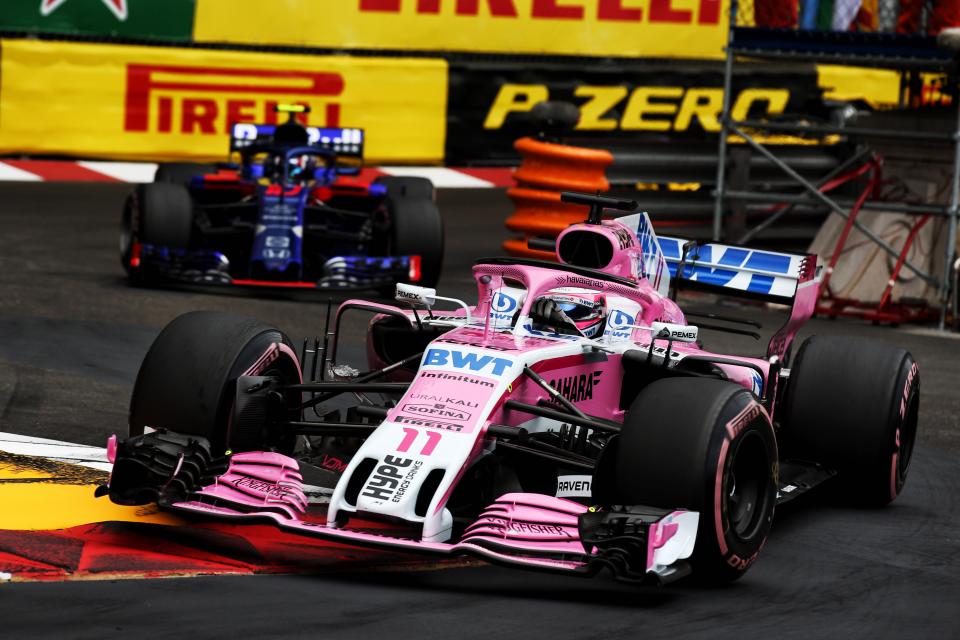 RAVENOL's Formula One Technical Partners, Force India, once again got a decent points haul at the Monaco Grand Prix, when Esteban Ocon overcame his two recent DNF's to finish 6th, in a largely uneventful race.
Monaco, often called the Jewel in the F1 Crown, is famed for the glitzy harbour-side parties attended by the rich and famous that visit the principality for race weekend. But the dazzling action off the track overshadows the fact that overtaking is very difficult here, and short of a safety car – which rarely there wasn't this time – things can often finish as they started. Even race winner Daniel Ricciardo was able to successfully hold off a charging Sebastien Vettel, despite having power issues that developed on Lap 29.
Force India qualified strongly this weekend, with Esteban in P6 and Checo in P9. Both got clean starts, both stayed in the same positions until they made pit stops. In fact, it appeared the only driver capable of pulling off overtaking this weekend was Red Bull driver Max Verstappen, who was surging forward from the back of the grid until his team warned him on the radio not to make any more risky moves.
Unfortunately, it all went wrong at the pit stop for Checo – an issue changing the rear right tyre cost him a lot of time and he dropped back to 15th. Esteban thankfully had a quick stop, but came out behind Renault's Nico Hulkenberg. The page of the Renault car wasn't there this weekend, and when Hulkenberg finally pitted on Lap 51, Esteban was 23 seconds behind 5th placed Valtteri Bottas, which he duly made up by the end of the race. But as is so often the case in Monaco, up to the gearbox of the Mercedes was as far as he could go.
The only drama in the race came on Lap 72 when local hero Charles Leclerc had a brake issue, sending his Sauber straight into the back of Toro Rosso's Brendon Hartley. With both able to limp to relative safety, the cars and ensuing debris field were cleaned up under the Virtual Safety Car. The front runners ignored the gaping pit window. The only change was the drivers behind moving up two places, elevating Checo into P12. On a different track with a longer DRS zone he could have easily made it past the slower Marcus Ericsson, and perhaps even Carlos Sainz for a double points finish, but unfortunately it was not to be.
After the finish, Force India's Drivers' Eye was delighted to catch up with Esteban to find out how his race went:
"A fantastic result today. I'm really happy and it was great fun," he said. "The pace we had was impressive and the team did a fantastic job with the strategy. We had a great understanding of the tyres and there were times during the race when we were the fastest car on track. In the final few laps I was catching Bottas and Raikkonen by over a second per lap and I was right behind them at the end. It feels great to get this result and a good bunch of points after a few disappointing races. I hope we can have many more weekends like this one."
On the other side of the garage, Checo talked about his frustration in not being able to catch up to his team mate:
"I am disappointed today because we didn't get the result our pace deserved. We had a problem at the pit stop and this completely ruined our race," he admitted.
"We lost some time, but in the second part of the race we had good pace. Unfortunately, it was impossible to overtake. I was quicker than the cars in front, but you need a big advantage to be able pass around here, especially with these very wide cars. I leave Monaco feeling we have lost some important points. Esteban showed what we could do today and it feels like an opportunity lost."
With Esteban's points haul, the team has leapfrogged rivals Haas into 6th place in the Constructors' Championships, and reduced the gap to 5th placed McLaren down to 14 points. Next up the team heads across the pond to Montreal, Canada, which should not disappoint with its unusual double DRS zone! Don't forget to check back in with us on Thursday the 7th of June for our Race Preview.