Force India Race Report Monza
3 September 2018 | Ravenol Marketing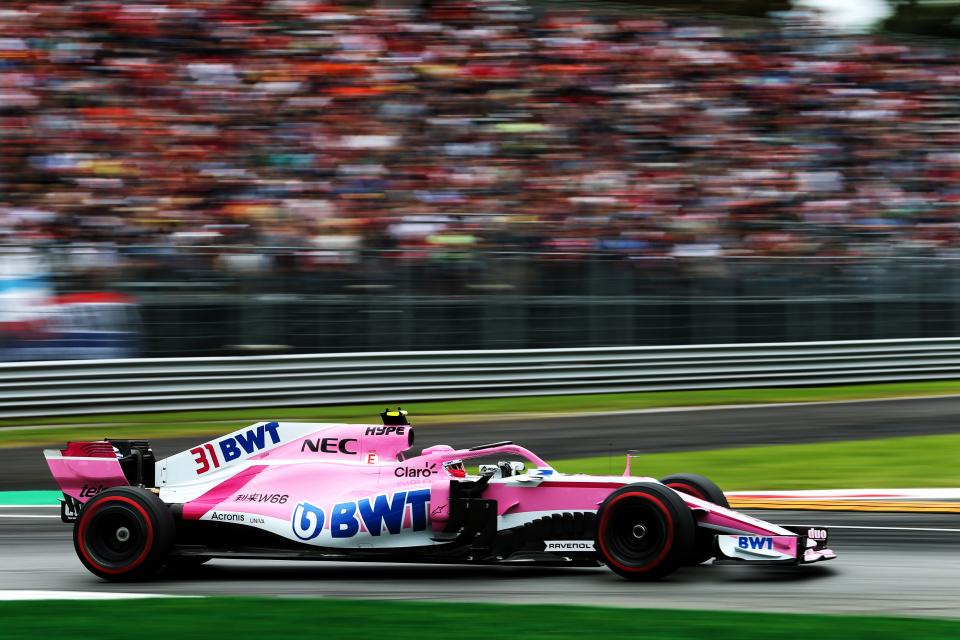 Our Technical Partners Racing Point Force India got another bumper points haul this weekend at Monza in the Italian Grand Prix, having finished in 7th and 8th in the race but getting a boost up the table after Romain Grosjean's Haas car was disqualified.
Whilst Esteban qualified in 8th, his team mate Checo was unable to get out of Q1 and qualified in 16th, although he started from 14th after other drivers received grid penalties. Both drivers got great starts, moving up the places, but their progress was cut short when two incidents happened on the opening lap – at the front Championship rivals Lewis Hamilton and Sebastien Vettel touched, causing Vettel to spin and drop to the back, which further down the field Brendon Hartley was pincered by Marcus Ericsson and Stoffel Vandoorne, causing him to break his wheel. Hartley limped to the side of the track as Vettel came into the pits for a new nose, and for the first time in 7 years the Safety Car was spotted at Monza.
On the restart, the crowd got a taste of the drama to come later on, as Hamilton took the lead from Ferrrari's Kimi Raikkonen, only for Raikkonen to snatch it back a few turns later, much to the delight of the red crowds of "Tifosi" Ferrari fans. Further back Checo sustained some damage as he tried to take 11th from Kevin Magnussen, but it didn't seem to affect his pace and soon he was up challenging Fernando Alonso for 10th. But no sooner had he made a move on the former World Champion, and he was overtaken by Daniel Ricciardo and Sebastien Vettel moving up from the back.
In the pit lane, Mercedes appeared to dummy Ferrari, causing Raikkonen to come in, but Hamilton stayed out. Then when Daniel Ricciardo's brand new engine blew, leaving him stranded at the side of the track, another Safety Car would have been a golden opportunity for his team mate Vettel to close the gap, but the marshals managed to retrieve the stricken Red Bull without it. Raikkonen ended up sandwiched between the Mercedes with fading tyres. Once Bottas finally pitted, he held Hamilton off for as long as he could, but the Tifosi were suddenly very quiet.
The Force Indias finally pitted and came out into space behind Carlos Sainz, who promoted them to 7th and 8th when he also pitted. Esteban then set off in pursuit of Romain Grosjean's Haas who was only 3 seconds ahead. Meanwhile back at the front, Hamilton finally got past the struggling Raikkonen, much to the dismay of the Tifosi who started to head for the gates.
Esteban managed to get within DRS of Grosjean, but wasn't able to get past before the chequered flag. But after the race Grosjean's Haas was disqualified by the scrutineers because the car's floor didn't fit the regulations, so the Pink Panthers were promoted to 6th and 7th! With the additional points this brought, they leap-frogged not only Sauber but also Torro Rosso in the Constructors' Championship, with loyal fans pointing out if the team hadn't been stripped of its points following administration, they would have been sitting in 4th right now.
Following the race we caught up with Force India's Driver's Eye to hear what the drivers had to say:
"I'm feeling happy with the result today," Esteban said. "My start was really good but I was squeezed onto the grass on the approach to turn one and had to back out of it, which cost me a couple of positions. From then on we had good pace and we managed to get ahead of Sainz. I was able to look after my tyres and make them last. I had one realistic opportunity to try and get Grosjean towards the end of the race, but it didn't work out. I'm pleased we could end the European season with a strong result. We head to the flyaways in good shape and we have good momentum."
"I am happy to come away from here with points, especially considering we were starting pretty far back on the grid," his team mate Checo agreed. "I had lots of understeer so it was a very difficult race. Despite these problems, we had strong pace and I was right behind Esteban in the final part of the race as we both tried to get ahead of Grosjean.
"The results from the last two weeks show how strong this team is. We would be theoretically fourth in the championship and we are scoring good points. In Singapore we will get some upgrades, which hopefully means we can keep performing well in the final few races of the championship."
So a great weekend for our Partners Force India. We look forward to seeing them back in action in Singapore in 2 weeks time.