Force India Back to form in Russia
1 October 2018 | Ravenol Marketing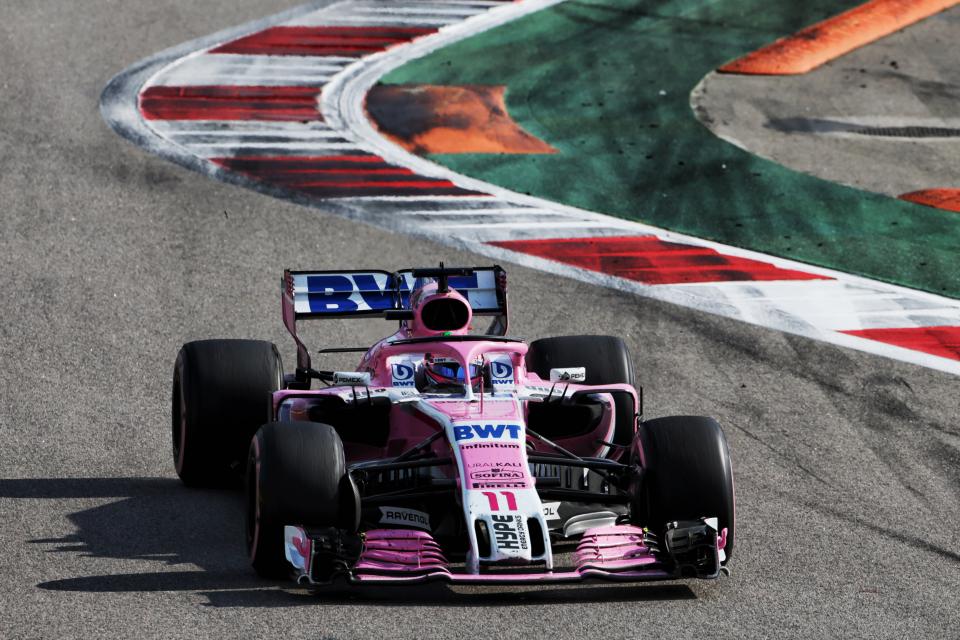 Our F1 Technical Partners, Racing Point Force India, have bounced back from their disappointment in Singapore with another double points finish at the Russian Grand Prix.
The Pink Panther were back on form in qualifying, with Esteban Ocon earning P7, and team mate Sergio "Checo" Perez starting alongside him in P8. This time at lights out the pair got a clean getaway, and Esteban was soon up behind Kevin Magnusson's Haas, challenging him for 6th.
Meanwhile towards the back of the pack, Red Bull driver Max Verstappen, who had stated out of place due to an engine penalty, was moving through the field like a hot knife through butter. By Lap 4, he had already made up an incredible 10 places, and was challenging Checo for 8th. He soon made short work of the two Force Indias, who were running a different race anyway, and Magnusson was soon to follow.
Haas called Magnusson in to pit early on into the window, so Force India had no choice but to try the overcut. Unfortunately it didn't work. By the time Esteban came out a lap later, Magnusson was already out of DRS range. His team mate followed soon after, and the Pink Panthers resumed their earlier pursuit of the fleeing Haas.
Meanwhile up at the front, race leader Valtteri Bottas came into the pits, leaving Mercedes team mate Lewis Hamilton leading the race. Right behind him, Ferrari's Sebastien Vettel pitted in an attempt to undercut his championship rival. Hamilton got caught in traffic, so when he came in a lop later for his own stop, he could only watch as Vettel flew past the pit exit and on into 3rd place. But Ferrari's celebrations were short lived – within a lap Hamilton had retaken the place.
Back at the pink camp, the situation was getting dire as Esteban was still unable to get past the slightly slower Haas, whilst further ahead in 7th, Renault driver Nico Hulkenberg, who still hadn't pitted but was making progress in cleaner air, was eating into the time difference. After three further frustrating laps, Esteban switched with Checo to see if he could make a difference on slightly fresher tyres, but to no avail, and in true team spirit the drivers were switched back. Thankfully when Hulkenberg did pit a couple of laps later, he came in safely behind both Force India drivers.
Up at the front, Mercedes were doing their own switching – in a controversial display of team orders, Bottas was forced to pull over to let Hamilton through. But the charging Max Verstappen, still on the original set of soft tyres, had managed to back the front runners up and Vettel was back on their tail. Bottas was left as the vanguard as Hamilton surged ahead to challenge Verstappen. Red Bull got the hint, and the Dutchman quickly retreated into the pits for a set of Supersofts to chase after Kimi Raikkonen with.
Despite the lengthened DRZ zones at Sochi, neither Esteban nor Checo were ultimately able to make a move on Magnusson in the final stages of the race, so they finished in 9th and 10th respectively – another double points finish to add to the tally and a positive result to take with them to Japan next week. Let's wish them all the best for Suzuka!