American Dream Turned Heartbreak for Force India at the USA Grand Prix
22 October 2018 | Ravenol Marketing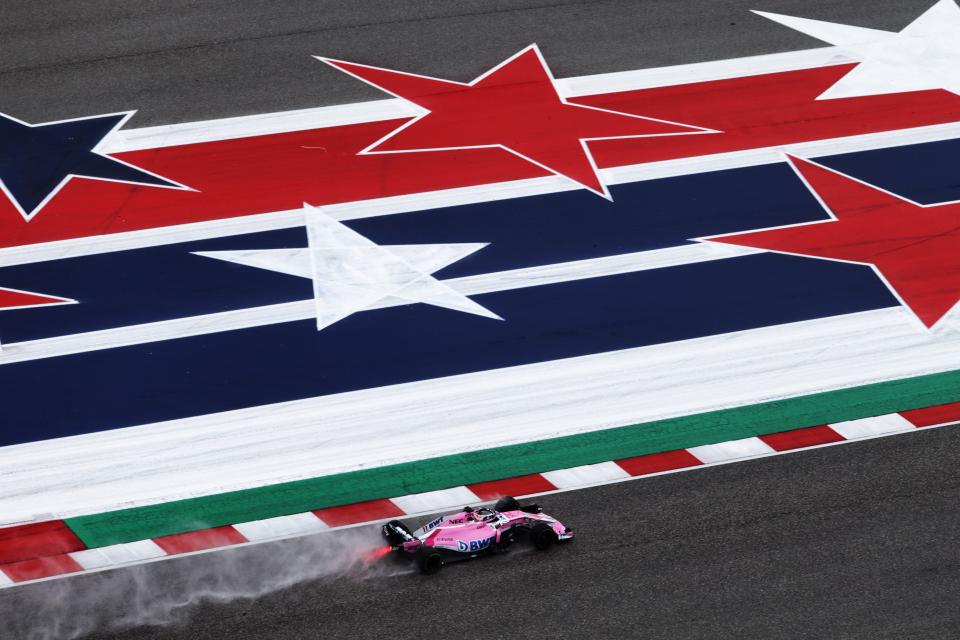 After our F1 Technical Partners, Force India, thought they'd scored another double points finish in Austin, it was heartbreak for the team when Esteban Ocon was disqualified post-race.
The weekend started okay, despite issues with the weather in Practice, with both drivers making it into Q3 in Qualifying. Esteban came out in P8, with his team mate Sergio "Checo" Perez two rows behind in P10, despite carrying damage to the floor and bargeboards from a mystery incident in Q1 which the team weren't fully able to fix.
The wide first corner at the Circuit of the Americas (COTA) quickly narrows, so there's often 1st lap drama here, and 2018 was certainly not a let down. Pole sitter Lewis Hamilton, who only needed 8 points over rival Sebastien Vettel to win the Drivers' Championship, moved to block Kimi Raikkonen, but was powerless to prevent the Ferrari driver forcing his way past on the inside. Behind them, there was contact between Fernando Alonso and Lance Stroll, leading to Alonso spinning out of the race, and contact between Romain Grosjean and Charles Leclerc, leading to them both diving into the pits. But most dramatic of all was Sebastien Vettel understeering into Daniel Ricciardo on the outside, causing him to spin and drop down to 18th, seemingly ruining his own Championship hopes and handing them to Hamilton on a star-spangled silver platter.
The two Force India cars did well to avoid the mêlée, but Esteban dropped behind the Renaults into 7th, ahead of team mate Checo who had gained a couple of places. Once the pack settled down and Alonso's car had been removed under yellow flags, Max Verstappen, having started further down the drid due to a penalty, was soon up behind Checo. He was help of until DRS was enabled a lap later, then once the charging Red Bull had been released, next was Vettel, desperately making his way back through the field. Just as he got past Esteban as well, there was more drama in store, as Daniel Ricciardo was forced to pull over with an unexplained sudden power loss issue, leading to a Virtual Safety Car.
A few drivers dived into the pits, followed a lap later by Lewis Hamilton, taking advantage of a quick change whilst the pack were forced to drive slowly under the VSC. Ferrari stayed out, as did both Force India's, which initially looked like a bad move when Hamilton began tearing through the field on fresher tyres. He made it back up behind Raikkonen, and a real dogfight ensued until the Finn dived into the pits. The Force India's also came in on consecutive laps, but unfortunately Checo's pitstop had issues, causing him to drop behind Kevin Magnusson.
As others came in for their pit stops and the Force India drivers managed to overtake slower drivers on old tyres, Esteban and Checo managed to work their way back up into the points. Meanwhile at the front, Hamilton's tyres were now starting to flag, and Raikkonen's Race Engineer's optimistic talk of the Mercedes driver being on a two stop strategy was becoming more and more sensible as the rear graining went on. Raikkonen was gaining on him and he was in traffic, so he was forced to come into the pits. He came out behind his team mate, Valtteri Bottas, who soon let him take the place, but he needed to get past Verstappen and into P2 to win the Drivers' Championship in Austin.
By this time Perez had caught up with Magnusson into DRS range, but was unable to make a move on the Haas driver. Neither could Magnusson get past Ocon in 8th, so that was how it finished for the Force India's.
Hamilton did managed to catch up with Verstappen and gave him a good wheel to wheel battle for 2nd until he was forced wide and onto the marbles. He was unable to come back from that, and finished behind Raikkonen and Verstappen to take 3rd. Vettel came in in 5th, having managed to get past Bottas, so the Drivers' Championship fight continues for another week.
Unfortunately, the American's love of drama meant the plot twists were not over. After the race, the scrutineers decided that Esteban's car had exceeded the maximum allowed 100kg/hour fuel flow rate on the first lap, leading to his disqualification. Thankfully the team only lost one point in the end as Kevin Magnusson was also disqualified when scrutineers deemed his Haas was carrying more than the allowed 105kg of fuel, meaning Checo was promoted to 8th place.
So the team's American Dream was narrowly saved from crashing down, but all eyes are on Mexico at the end of the week for the second installment of the Americas double header. No doubt Checo will be on a mission to impress his home fans and sponsors, so we're sure we'll see some exciting racing. We'll catch you then!