Sergio Perez Gets His First Point in Bahrain
1 April 2019 | Ravenol Marketing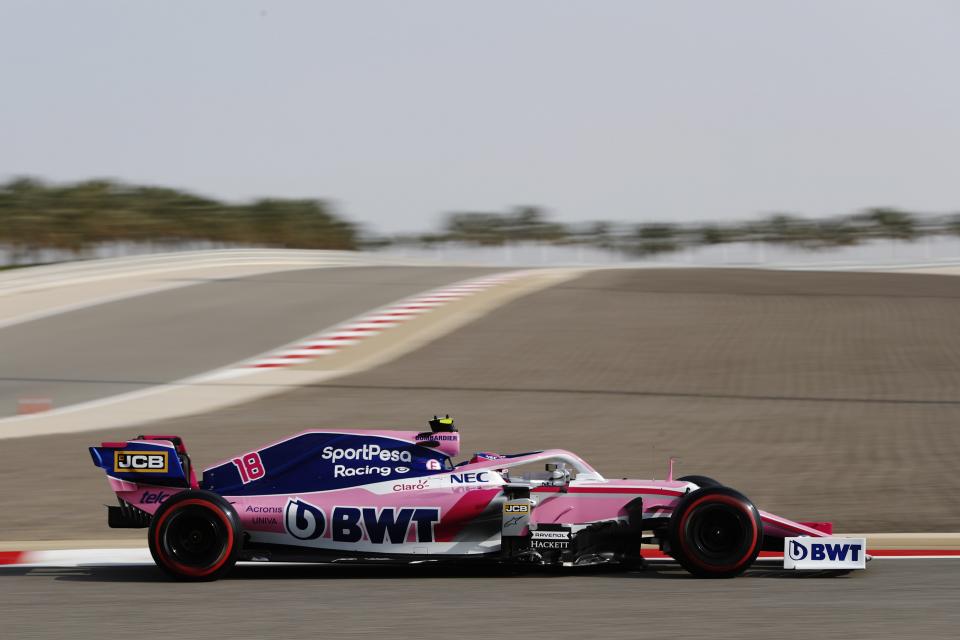 SportPesa Racing Point got another points finish in Bahrain after a last minute reprieve when both Renaults mysteriously malfunctioned, seeing Sergio "Checo" Perez elevated up to 10th.
The Racing Point cars struggled in Qualifying, with Lance not making it out of Q1 and Checo being eliminated in Q2. Despite this, both drivers made good getaways at the start, making up several positions. And then, disaster for Lance when he made contact with Haas driver Romain Grosjean a few corners later. Lance ducked into the pits for a new nose cone, but there was other damage to the car and he was off the pace for the rest of the race.
Up at the front, polesitter Charles Leclerc was beaten off the line by Ferrari teammate Sebastian Vettel and was then passed by Mercedes' Valtteri Bottas whilst he struggled to warm his tyres. He managed to take a place back on the following lap, and soon settled into the stunning pace he'd shown in Qualifying, overhauling Vettel on Lap 6 to retake the lead.
By this time Checo was running in 9th, whilst Lance was back in 18th following his early pit stop. But Checo started having issues with his brakes overheating due to the ducts being blocked, so Racing Point brought him in for an early pitstop. Whilst the midfield pack was still tight, and with a two-stop strategy looking fastest, it looked like he was going to get an undercut on the drivers ahead. This caused a rush into the pits as other teams tried to cover him off, and he ended up in 12th. But on fresh tyres, he was soon up the back of the struggling Williams of George Russell and Robert Kubica. He made short work of Russell, then Kubica dived into the pits. Further ahead, Sauber's Antonio Giovinazzi made contact with Toro Rosso's Daniil Kvyat, causing Kvyat to spin and allowing Kimi Raikkonen to pass him. Kvyat dived into the pits, allowing Checo up to 9th, but his hard work was undone when a couple of faster cars caught him up following their pitstops, and he slipped back down to 11th.
At the back of the pack, with only Carlos Sainz and the two Williams for company, Lance was still running in 18th. He moved out the way to let Red Bull driver Max Verstappen past, but then decided to unlap himself. There was a scary moment as the cars nearly came together, reminiscent of Abu Dhabi last year when Verstappen turned in on Esteban Ocon, but thankfully this time Verstappen left enough space.
When the second pit window opened, Checo came in for his 2nd pitstop and came out in 15th. Further ahead, Lewis Hamilton tried to undercut Sebastian Vettel. Vettel managed to exit the pitlane just ahead, but the comfortable margin he had was slashed. Vettel desperately tried to fend off Hamilton, but he managed to get past the Ferrari at the end of the straight. Vettel then spun off the track. He managed to recover, but then dramatically his front wing just dropped off, damaging his tyres and forcing him to pit, which dropped him down to 9th. He later recovered to 5th, but was a long way off the podium places.
After a few cars ahead pitted, Checo was elevated to 12th, but was a long way behind Toro Rosso's Alexander Albon. It was seeming like the points places were a long way off, but even as the race slipped into the closing stages, the drama was far from over at the Bahrain Grand Prix. Race leader Charles Leclerc, who was sitting comfortably out in front after a near perfect race, suddenly developed engine issues, dramatically losing power. It was heartbreak for Ferrari as they watched him losing 5 seconds a lap and being reeled in by the Mercedes. Checo managed to unlap himself, and a lap later Leclerc was caught by Hamilton. A few laps later Bottas managed to get past him too, and it was looking like even Verstappen might catch him, when he got an unbelievable reprieve – without warning, both the Renault cars mysteriously cut out simultaneously, leaving their drivers stranded by the side of the track. A safety car was required to collect them both, and the race finished as it was behind the safety car, allowing Leclerc a consolation prize of 3rd, and gifting Checo 10th place and another point for Racing Point.
So that concludes another race weekend, and we'll join you again in two weeks time when F1 returns to Shanghai for the Chinese Grand Prix.