Testing is Going Well for SportPesa Racing Point in Barcelona
20 February 2019 | Ravenol Marketing
We're halfway through Week 1 of Formula One testing in Barcelona, and SportPesa Racing Point drivers Sergio "Checo" Perez and Lance Stroll are putting in some impressive times in the RP19 car.
Testing is taking place at the Circuit de Barcelona-Catalunya, home of course of the Spanish Grand Prix. So far Checo has driven the car on Monday, with Lance taking over on Tuesday. This will be repeated on Wednesday and Thursday.
Here's how it's looking so far:
Day 1 – 18 February 2019
Driver: Sergio Perez
Laps: 30
Best time: 1:19.994
Position: P7 of 11
Mileage: 140 km
"It was a typical first day of testing," Checo told the team after testing, "with a lot of checks and not a lot of running. It was effectively our shakedown and, even though the day was a bit shorter than expected, I felt quite happy with the car straight away. The mileage wasn't great but I think it was still a promising start. I am happy with the performance we managed to get out of the car and with its balance.
"The conditions weren't great: the track was quite cold and green to begin with, but I end the first day feeling positive. It was important to start understanding the car as much as we could and for me to make myself comfortable with it as a driver."
Day 2: Tuesday 19 February

Driver: Lance Stroll
Laps: 79
Best time: 1:20.433
Position: P11 of 12
Mileage: 368km
"It was great to be back in the car after a few months and to get down to work," Lance said after his session. "It's a special feeling when you head down the pit lane for the first time in the new car and release the pit limiter. The general first impression is positive and we worked through the programme covering lots of laps with good reliability.
"It's early days working trackside with the team so I'm still building up my relationship with some of the crew and understanding how the team likes to approach things, but I already feel comfortable. I didn't really get a good feel for the new aero rules on these cars yet because I didn't run in traffic very much, but that's something I will understand better over the next few days."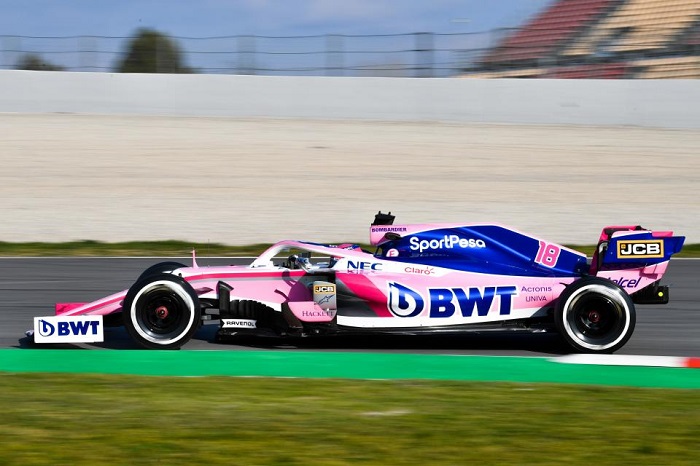 So it sounds like everything is going well for the Pink Panther pilots in testing and we look forward to seeing how Checo, Lance and the rest of the team get on throughout the rest of the session. Good luck to our Formula One Technical Partners SportPesa Racing Point!