RAVENOL to Partner KNC Groundworks Scottish Rally Championship
29 January 2019 | Ravenol Marketing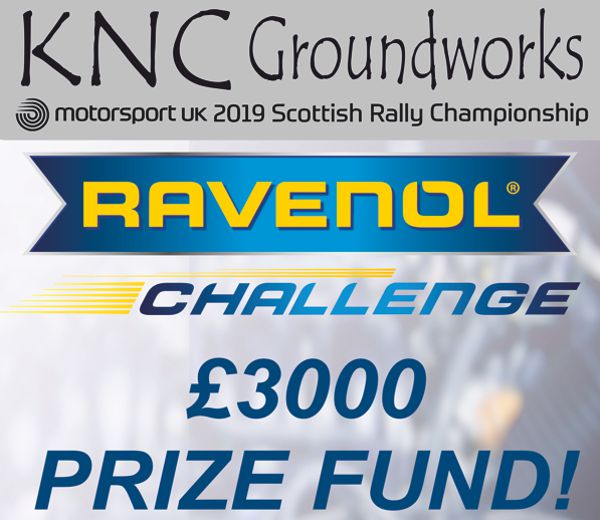 RAVENOL, one of the most popular lubricant brands in the motorsport world, are delighted to announce a technical partnership with one of the UK's leading Rally series, The KNC Groundworks Scottish Rally Championship.
RAVENOL is involved at all levels of Motorsport right up to Formula One and have recently developed a new generation of lubricants, specifically designed to lubricate racing car parts operating at the cutting edge of motorsport technology.
The Motorsport UK KNC Groundworks Scottish Rally Championship comprises seven exhilarating events and launches this year with the Snowman Rally, based in Inverness, on 9th February 2019. Around 100 drivers, navigators and their support crews - watched by thousands of spectators - will tackle gravel forestry tracks during the course of the season in a bid to take the overall championship crown.
On behalf of the organising committee, Neil Shanks commented "The KNC Groundworks Scottish Rally Championship are delighted that RAVENOL have joined us as our Oils & Lubricants partner for the next 3 years. As one of the leading International companies in their field with a strong Motorsport heritage, we are excited to help in promoting the RAVENOL brand in Scotland. They have offered a range of incentives which can only benefit our competitors, with a fantastic prize fund available through the RAVENOL Challenge, in addition to preferential rates on the supply of products. We look forward to working together."
The enthusiasm is shared by Brian Chase, Managing Director of RAVENOL UK "When the opportunity arose to support this professionally run championship we had no hesitation in accepting the offer. Always committed to supporting the British Clubman, we are pleased to introduce the RAVENOL Scottish Challenge, designed to reward exceptional talent, whatever the budget".
Details of The KNC Groundworks Scottish Rally Championship: http://www.scottishrallychampionship.co.uk/
All about RAVENOL Ultimate Lubrication Technology: https://www.ravenol-direct.uk/