RAVENOL partner Wix Racing with Eurotech dominates at Snetterton
1 August 2018 | Brian
RAVENOL partner Wix Racing with Eurotech dominates at Snetterton
The Dunlop MSA British Touring Car Championship headed to Snetterton in Norfolk for its celebratory 60th anniversary 'Double Diamond' weekend over 28th/29th July where the Wix Racing with Eurotech Team firmly reignited their championship challenge with Jack Goff, dominating both free practice and qualifying sessions, setting a new pole lap record, achieving an incredible win in one of the most memorable close finishes across the finish line and finishing second in the special anniversary Double Diamond long distance race.
The team's form was evident from the start in Saturday's first free practice session with the Simpson Racing, Eurotech-run Honda Civic Type R of Matt Simpson topping the lap times on a fast drying-out damp track. In free practice two for much of the session all three Eurotech type R's were P1, P2 and P3. When the chequered flag dropped it was Jack Goff who topped the times with Matt Simpson P3 and Wix team-mate Brett Smith P5.
Conditions were fully dry for qualifying and again the strength of the Eurotech Type R's was prominent with Goff taking pole and setting a new lap record, Simpson P3 and Smith P4, completing an almost Eurotech front lock-out, with Dan Cammish sitting in between in P2 making an all-Honda front two rows for the race 1 grid.
Marking the special 60th anniversary was a second qualifying session for the 'Double Diamond' race, which would be race three of the day on Sunday, where the grid would contest a longer length 60 mile (20 lap) race with all cars carrying no ballast creating a one-off race offering double points up for grabs. Once again Goff put the black and yellow Wix liveried Type R on pole position, further smashing his own lap record from qualifying 1. Smith in P9 and Simpson P13 after both falling foul of track limits and having their fastest lap times disallowed.
With Sunday came the rain, a relief from the recent high temperatures but making for unpredictable track conditions. Goff was textbook smooth away from pole position in race one and drove with intent from the off building up a commanding in the wet and despite a slippery moment in the final moments hust beat Sutton over the line by 0.152 of a second.
With a very short turn around period after the no. 31 car was released from parc ferme before it had to be out again for race two, the team suffered a huge blow just missing out by seconds on the pit lane closure time while trying to make set up changes according to the weather, meaning Goff would have to start race two from the pit lane rather than his P1 position. Smith was in the thick of the action having a race long battle with Tom Chilton eventually finishing in a solid P12, Goff and Simpson battled their way up through the rough driving standards at the back of the pack to P17 and P19 respectively.
Race three was the hotly anticipated special 60th anniversary 'Double Diamond' race over 20 laps with Jack Goff sitting on pole position for a second time. Goff again made a clean getaway taking the lead from BTCC veteran Matt Neal with Tom Ingram getting the better of Tom Chilton in to third place, the order at the front stayed the same for the first half distance, when a light rain shower started to come down, Goff being first in to the changing conditions was the first to lock up allowing Matt Neal to get past into turn two, the slippery conditions not giving any real opportunity to fight for the place back, and holding off pressure from Ingram in the closing laps they came across the finish line in that order with Neal somewhat appropriately taking the 'Double Diamond' honours with Goff a superb P2. Simpson drove a fantastic race with his best finish of the day in a commendable P8.
The hugely successful weekend has lifted Jack Goff back up to P4 in the Driver's Championship putting him back in to serious Championship contention, just one point behind Matt Neal in P3 and seventeen points behind leader Tom Ingram. Also promoting him to P2 in the Independent Drivers.
The Wix Racing with Eurotech Team are challenging again for the Independent Teams Championship crown in P2, just three points behind leaders Speedworks, and are sitting P4 overall in the Teams Championship.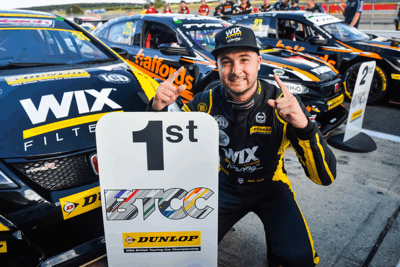 Jack Goff reflected; 'That was a pretty special weekend. To not only be a part of the 60th anniversary weekend, but to put it on pole position in both qualifying sessions with a new lap record will be something that will live long in my memory. To then convert Pole into a race win and a P2 in the diamond double race along with two independent wins was just a great way to bounce back after our disappointment of Croft. The team did a fantastic job over the summer break to find an answer to our issues and the two day official tyre test at Snetterton really helped us iron out those problems from croft. We leave Snetterton with the biggest points haul by something like 16 points. Which has helped us move up into P4 in the overall championship and second in the independents. Finally I would just like to thank everyone at Wix Racing with Eurotech, all of our amazing sponsors and the fans for braving the conditions on Sunday. See you all at Rockingham.'
Team Principal Jeff Smith said 'I am incredibly proud of the whole team, we came here after a shocking round at Croft which has turned in to our bogey circuit, but we kept our heads up and kept pushing, we knew our cars are strong at Snetterton and we worked on improving our strengths at the two day test here which has obviously paid dividends. The lads have driven brilliantly and this has been the result of a fantastic team effort, it is even more special being the 60th Anniversary round, I am proud that we will go down in the history books as a part of that success and that we are back on track to seriously push for the Championship.'
The team now head to Rockingham on 11/12th August on a high looking to build further on the successes of Snetterton.
The Eurotech Racing run cars use RAVENOL REP 5W-30 Racing Oil in the engine and RAVENOL RHP Racing Gear Oil in the transmission.