Samsonas Motorsport and RAVENOL form a technical partnership.
12 December 2019 | Brian
Samsonas Motorsport and RAVENOL form a technical partnership.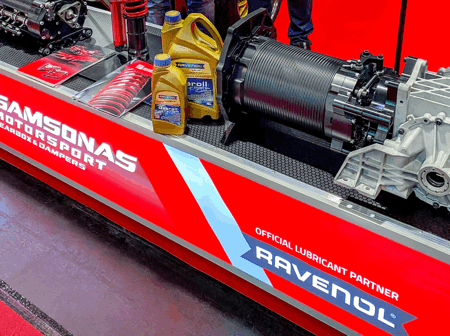 Lithuanian drive system specialist, Samsonas Motorsport have confirmed that they will be using RAVENOL products in the production and assembly departments of its factory in Utena/Lithuania, including transmission oil, fork oil, industrial oils, greases and maintenance products. All of Samsonas Motorsport's racing transmissions and shock absorbers, both new and reconditioned, will be labelled to indicate that they have been filled with RAVENOL lubricants.
Samsonas Motorsport was founded in 1997, but its roots go back to the 1970s. The company's founder, Martynas Samsonas, has built up the company which now employs 50 highly-qualified employees who work with the latest, extensively-developed technologies. Samsonas Motorsport produces a wide selection of racing transmissions and shock absorbers with over one thousand customers. A close-knit international distribution network makes Samsonas Motorsport one of the most important names in motorsport technology worldwide.
Martynas Samsonas (Managing Director of Samsonas Motorsport): "Over the course of 2019, which was a very successful year for us, the paths of our two companies crossed by chance, just as we were re-evaluating the latest lubricants to use for our transmissions and shock absorbers. In order to further pursue our philosophy of offering exacting motorsport customers the best possible products and service, it quickly became clear, following intensive market research, that RAVENOL not only offers the most reliable products, it is also a company that shares our values. We are looking forward to working together."
"We put the finishing touches to our future collaboration at the international specialist trade fair for racing technologies for racing cars and road vehicles, Professional MotorSport World Expo in Cologne (PMWE for short)", commented Dimitri Barichnowski, Marketing Manager at RAVENOL. "In addition to the unrestricted supply of premium lubricants, our new partnership will also involve close collaboration between the technical departments of both companies and the development of new, optimised products for a variety of applications".