SportPesa Racing Point Pick Up First Points at Australian Grand Prix
18 March 2019 | Ravenol Marketing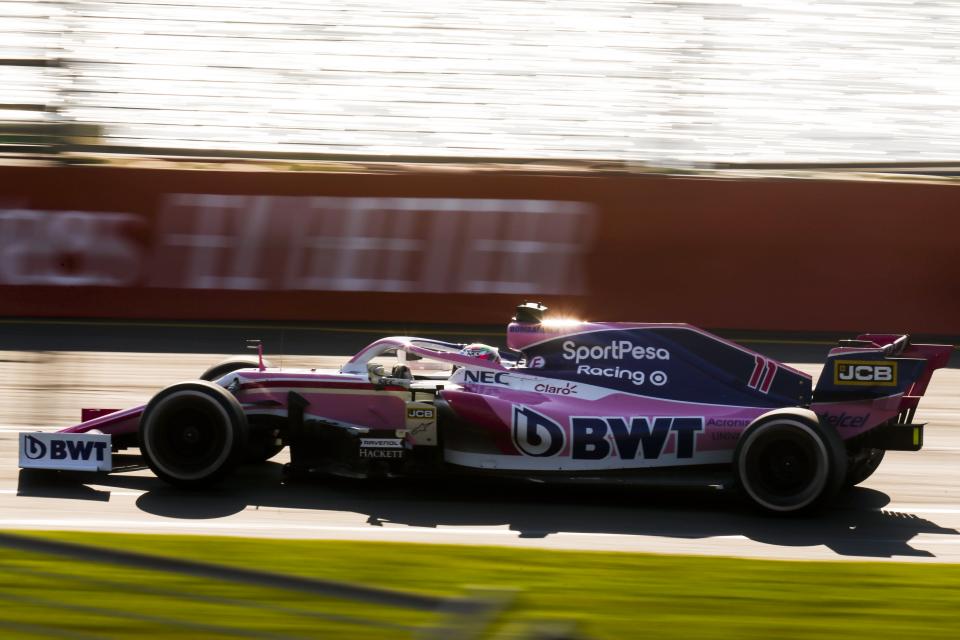 SportPesa Racing Point started the F1 2019 season as they mean to go on at the opening race in Melbourne with Lance Stroll finishing comfortably in 9th to bring home the team's first point of the season.
Despite a dismal qualifying, not making it out of Q1 after being blocked by Haas driver Romain Grosjean and starting in 16th, Lance had a great race and made up several places on the opening lap. His teammate Sergio "Checo" Perez was not quite so fortunate. Having made it into Q3, starting in 10th, he dropped a few places on the opening lap and ended up just in front of Lance, where he had light contact with Renault driver Daniel Ricciardo. To everyone's surprise, the Australian's front wing completely failed, dropping under the car and causing enough damage to see him retire later on from his home grand prix. Meanwhile, at the front of the grid, Mercedes driver Valtteri Bottas had got the jump on Lewis Hamilton to take the lead of the race.
The grid quickly settled down and it became clear that overtaking was not going to be easy in Albert Park. The midfield was very close, so when Sauber driver Kimi Raikkonen came into the pits, a lot of other followed to prevent him getting an undercut. Checo came in a few laps later, leaving Lance out on a different strategy, trying the long game.
Later in the race, Checo ended up behind a train of cars being held up by rookie Sauber driver Antonio Giovinazzi, who started struggle for pace as his tyres aged. Behind him McLaren rookie Lando Norris was unable to get past, ruining the race for the cars behind. Drivers such as Toro Rosso returnee Daniil Kvyat took the opportunity to pit and came out ahead of the Giovinazzi train. Once Norris got the move done, the more experienced drivers had no trouble passing the Sauber, reminding the rookie that pace is only one part of being an F1 driver.
Lance took his pitstop a few laps later and came back out in 10th, which became 9th when Red Bull driver Pierre Gasly finally pitted. Gasly came out behind Kvyat, who then started to close down on Lance in his effort to stay ahead of the Red Bull. Ahead of them, Red Bull driver Max Verstappen made it back past the slower Ferrari of Sebastian Vettel following his pitstop and started to close down on Lewis Hamilton. But he never really got close enough to challenge the World Champion for 2nd.
Lance managed to close down Raikkonen, whilst keeping Kvyat behind. Checo meanwhile had closed right up to Norris. But with overtaking virtually impossible, that's how it remained to the end of the race, with Mercedes' Valtteri Bottas taking the win, plus an extra point for the fastest lap, a new entry into the regulations for 2019. Lance came home in 9th, to take the team's first points of the season, and Checo finished in 13th – on the pace, but without the track space to make up the places.
Racing Point's Drivers' Eye caught up with both drivers after the race. Unsurprisingly, Lance was very happy with how his race turned out.
"I am really pleased with my race today – it has been a great day at the office," he told them. "It's really nice to pick up some points on the first weekend of the season, but it wasn't easy. It was a really challenging afternoon, chasing Hulkenberg and Raikkonen ahead of me while also keeping Kvyat and Gasly behind me for most of the race. I was under a lot of pressure and it was very tight, but I am glad we managed to pick up two points.
"We were always planning to go long with our strategy: we were starting out of position so we knew the key was to make a good start and gain some places in the opening stages, which we did. After that, we had good pace and managed to hold off the cars behind us on softer tyres than ours. We saw today that it's going to be really close in the middle of the grid, but we are definitely in the fight."
In contract Checo was understandable disappointed with the roll of the dice for his afternoon.
"I'm disappointed to come away from Melbourne missing out on points," he said. "It was quite a difficult race for me from lap one because I made a poor start and lost a couple of places before turn one. Overtaking was extremely difficult, so we tried the undercut with the strategy but it didn't really work out for us. After my pit stop I was stuck in traffic for the rest of the race."
So with a couple of points, lots of race data and a few things to iron out, the team heads to Bahrain at the end of the month for the 2nd race on the calendar. We're looking forward to catching up with them again under the setting desert sun for the next instalment of 2019 F1 action!