Strandberg Takes Maximum Points in Milltek VW Cup Opener
3 April 2018 | Ravenol Marketing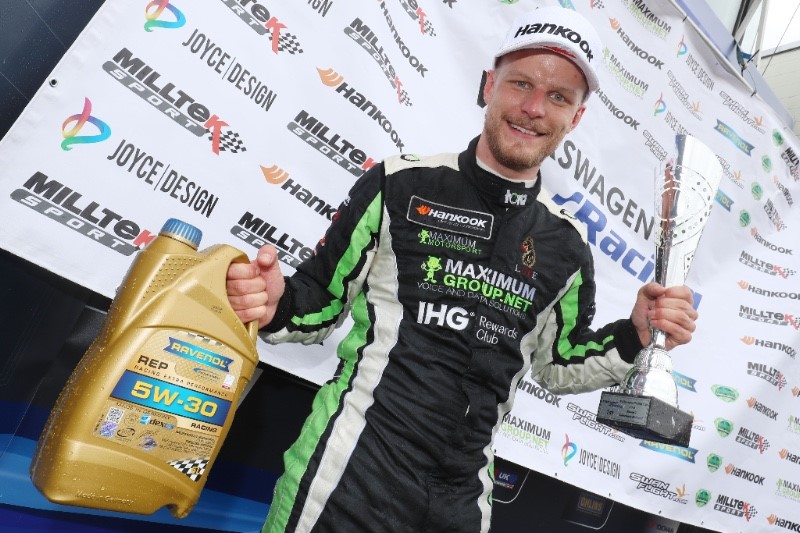 Maximum Motorsport's 'Super Swede' Dennis Strandberg has taken maximum points in the opening round of the Milltek Sport Volkswagen Racing Cup at Silverstone. This year RAVENOL are their official lubricants partner, and we were trackside on Saturday to present the trophies on the podium for Round One.
Strandberg qualified on pole position for Round One on a wet and windy Saturday morning, pipping Team HARD's Jamie Bond to the top spot, with DW Racing's Martin Depper taking P3.
Strandberg led for most of the first race on Saturday afternoon, but was overtaken a few laps before the chequered flag by Jamie Bond. Bond later had to concede the place when he was found to have exceeded the track limits. Behind them was a large gap to 3rd place, which was secured by Team HARD's Toby Davis.
In the drivers' interviews, winner Strandberg admitted that a technical failure had caused him to lose the place.
"I had a great start but towards the end I lost a little bit of time as the clutch stopped working, so I had to do the last couple of laps in 4th, but it turned out alright."
2nd placed Bond told interviewers his race was 'tough'. "Not enough pace but I'm happy with the podium," he said. "We started in 2nd and I finished in 2nd. All in all its been a good day and it's a good hall of points!"
3rd placed Davis also had an exciting race. "Depper challenged me lap after lap for about 5 laps but it was a wicked race and one of my best. I'm over the mood to be here!"
Qualifying for Round Two in the VW Cup is in reverse grid order from 6th place, meaning Strandberg started from P6 on Sunday, and Allumy Motorsport's Tom Walker started on pole.
Following lights out, Walker led for a brief period before being overtaken by Bond, Depper and Strandberg. Following yellow flags for Team HARD's Ethan Hammerton who stopped on track, Strandberg made a move on Depper and then Bond to take the race lead. Bond unfortunately had to retire with a puncture, leaving Slide Sports' Owen Walton to take 3rd place.
However, the drama did not finish at the chequered flag – the stewards decided that Depper had made an illegal overtake during a yellow flag period and he was excluded from the podium. Walton was promoted to 2nd place, and Maximum Motorsport's Chris Panayiotou too 3rd.
"The team have done an amazing job this weekend," Strandberg said after in the drivers' interview. "The car wasn't even running on Friday so it's been a unbelievable achievement."
Owen Walton also had tyre issues in the changeable Silverstone weather. "The start was hard work!" he said. "I just played the long game and let the tyres come in. I just wanted the point, I just wanted to get some good points early on in the year so I'm pleased."
Podium promoted Panayiotou admitted, "After my mistake during qualifying it all looked very unlikely! A few situations played into my hands leaving me with a P3 and some decent championship points."
Following Silverstone, the VW Cup heads to Rockingham for Rounds 3 and 4 on the 28-29th April.