Walton Takes His First VW Cup Win at Sunny Snetterton
31 May 2018 | Ravenol Marketing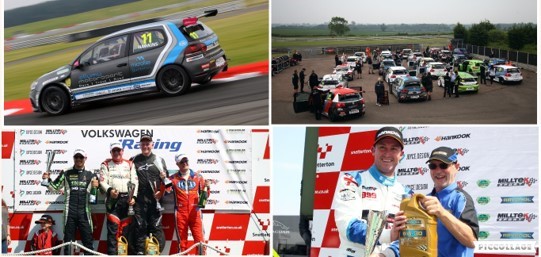 Last weekend Snetterton Circuit hosted Rounds 5 and 6 of RAVENOL's partner series, the Volkswagen Racing Cup.
Qualifying took place early on Saturday. Jessica Hawkins, Dennis Strandberg and Chris Panayiotou were separable only by fractions of a second in 2nd, 3rd and 4th whilst Simon Walton went on a charge and took the lead. At the chequered flag Walton claimed pole, Hawkins took 2nd with Strandberg 3rd.
Race 1 got underway with a fast start from Hawkins, taking first place from Walton. However, Walton quickly re-took the lead with Dennis Strandberg close behind. After some great racing between Walton and Hawkins, Walton pulled away from the chasing drivers.
Hawkins defended from Strandberg for several laps but the 'Super Swede' managed to take 2nd place from her. With Walton now 5.1 seconds ahead in the lead, Martin Depper claimed 3rd place from Hawkins at the Wilson Hairpin.
The final result saw a first time Volkswagen Cup win for Walton, 4.229 seconds ahead of 2nd place Strandberg with the final podium place going to Depper 1.826 seconds behind.
Race 2 started under a top 6 reverse grid, with Matthew Wilson on pole, Jamie Bond 2nd and Jessica Hawkins 3rd. The race got off to a clean start, with Depper in the lead by the end of Lap 1, followed by Strandberg and Bond close behind. At the end of lap 2 Bond managed to pass Strandberg to take 2nd place, while polesitter Wilson, who didn't get a good start, had dropped down to 8th.
Hawkins's race was ruined by her bonnet flying up on the warm-up lap, shattering her windscreen, and not long into the race she was shown a black and orange flag, the stewards deeming the damage was too severe for her to be able to continue the race. Meanwhile Bond continued to pursue Depper, with only 0.702 seconds between them, and Panayiotou took 3rd place from Strandberg.
Towards the end of the race, Strandberg started struggling with his car and was overtaken by Tom Witts. Witts then closed the gap to Panayiotou when he went off at Oggies and Coram. Then on the penultimate lap, with 45 seconds remaining, the chequered flag was inadvertently waved and quickly retracted. However it was long enough to confuse the front runners who slowed down, thinking the race was over. After consulting with the stewards it was deemed that the last lap would be discounted, meaning that the result was rolled back to the end of lap 9. Therefore the final result saw Depper claiming 1st place, Bond in 2nd and Witts promoted to 3rd after Panayiotou received a 5 second penalty for exceeding track limits.
After the race, Depper said, "I got a good start, going up to 2nd, but Dennis [Strandberg] was looking very racy behind me. At the end of Lap 1, he out-braked me into the first corner, with us both leaving braking until really late, but I shot down inside, waiting for him to cut back. There was millimetres between us but he went wide and I was able carry on and get the power down and get away.
"When I came across the line at the end of lap 9 the chequered flag was out so I slowed down. Bond came past me but the Marshalls were waving us on so I speeded up again. When I came down the pit lane the flag man immediately apologised and it was sorted by the Officials".
The Milltek Sport Volkswagen Cup returns on 16th & 17th June at Deutsche Fest, Brands Hatch.