Paddock Motorsport See a Dramatic Return at Brands Hatch
Ravenol UK's technical partner Paddock Motorsport crews produced impressive recovery drives during the latest round of the Intelligent Money British GT Championship at Brands Hatch, with both the GT3 and GT4 teams scoring a big haul of points.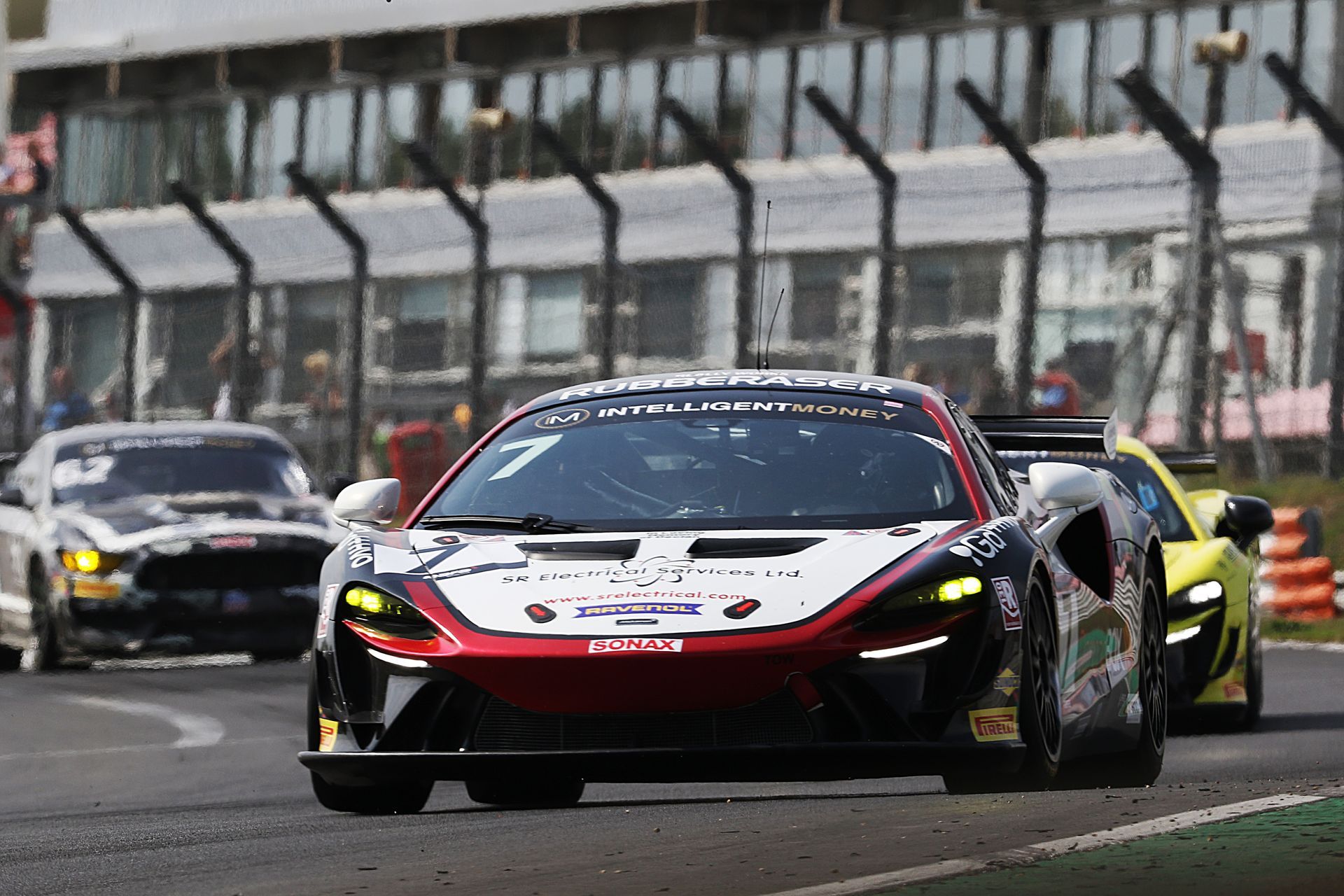 Mark Smith and Martin Plowman continued their upward curve by scoring sixth overall on the road in the #11 720S GT3 Evo, despite the car being both hit with a grid drop and severely delayed during a turbulent race start. A post-race time penalty for contact with a GT4 car would put them back to seventh in class, but that still represented their season's best result.

Kavi Jundu and Tom Rawlings endured an even more challenging weekend as losing track time in both Saturday practice sessions meant they essentially went into qualifying blind. Regardless, the pair fought hard to secure fourth in the GT4 Pro-Am order, equalling their best result of the campaign.

Saturday's practice sessions were spent honing the GT3 to the 2.3-mile Brands Hatch Grand Prix Circuit, and also getting Smith up to speed. The Californian had never driven the track and Brands' lack of a pre-event test made it a steep learning curve. Things were more difficult on the GT4 side, as Jundu was dumped into the gravel at Hawthorn after an ABS mixup, meaning the car had to be first recovered and then emptied of gravel. FP2 was even more unlucky when a stray piece of gravel interfered with the cooling system, meaning the car only completed a handful of laps.

Qualifying was also a mixed bag, with Smith and Plowman initially putting the GT3 ninth on the grid, before being dropped five places following a red flag infringement in practice. Jundu and Rawlings would start seventh in the GT4 Pro-Am order, with Rawlings getting his first laps during the timed session.
When the lights went out contact between the Mercedes-AMGs of John Ferguson and Ian Loggie caused chaos through turn one, as Loggie's car ended up broadside in front of Smith as the pack headed through Paddock Hill Bend. Smith was forced to brake hard and swerve to avoid damage, which he did successfully. Smith faced some technical issues with the car but the American driver put on a star performance to overtake the entirety of the GT4 field and then start to work his way through up the GT3 order. Smith's determined recovery got him into an incredible seventh by the pit window when he dived in to hand to Plowman. Slick work from the Paddock crew got the car serviced and back out in fifth, just ahead of the Greystone GT Mercedes of Callum Macleod.
Plowman defended hard from Macleod, but eventually lost out when he was caught in a collision with a GT4 car through Clearways. The clash delayed Plowman and allowed the AMG through. It also helped Sandy Mitchell's Barwell Lamborghini to close in and eventually work its way past. It looked like seventh would be the limit, until the Greystone GT car ran dry of fuel on the final lap, leaving Smith and Plowman sixth at the flag. Even with the post-race censure being a setback, there's no arguing that Smith and Plowman now have the pace to be knocking on the door of the big points scores.

In GT4, Jundu did well to pick his way through the chaos at the start and move the Artura up to fifth in class early on. After that he got involved in a tight fight in the pack, despite the rising temperatures and lack of track time proving a challenge. Increasing levels of oversteer made things hard work late into his stint and Jundu was forced to serve a drive-through penalty for straying beyond the track limits once too often.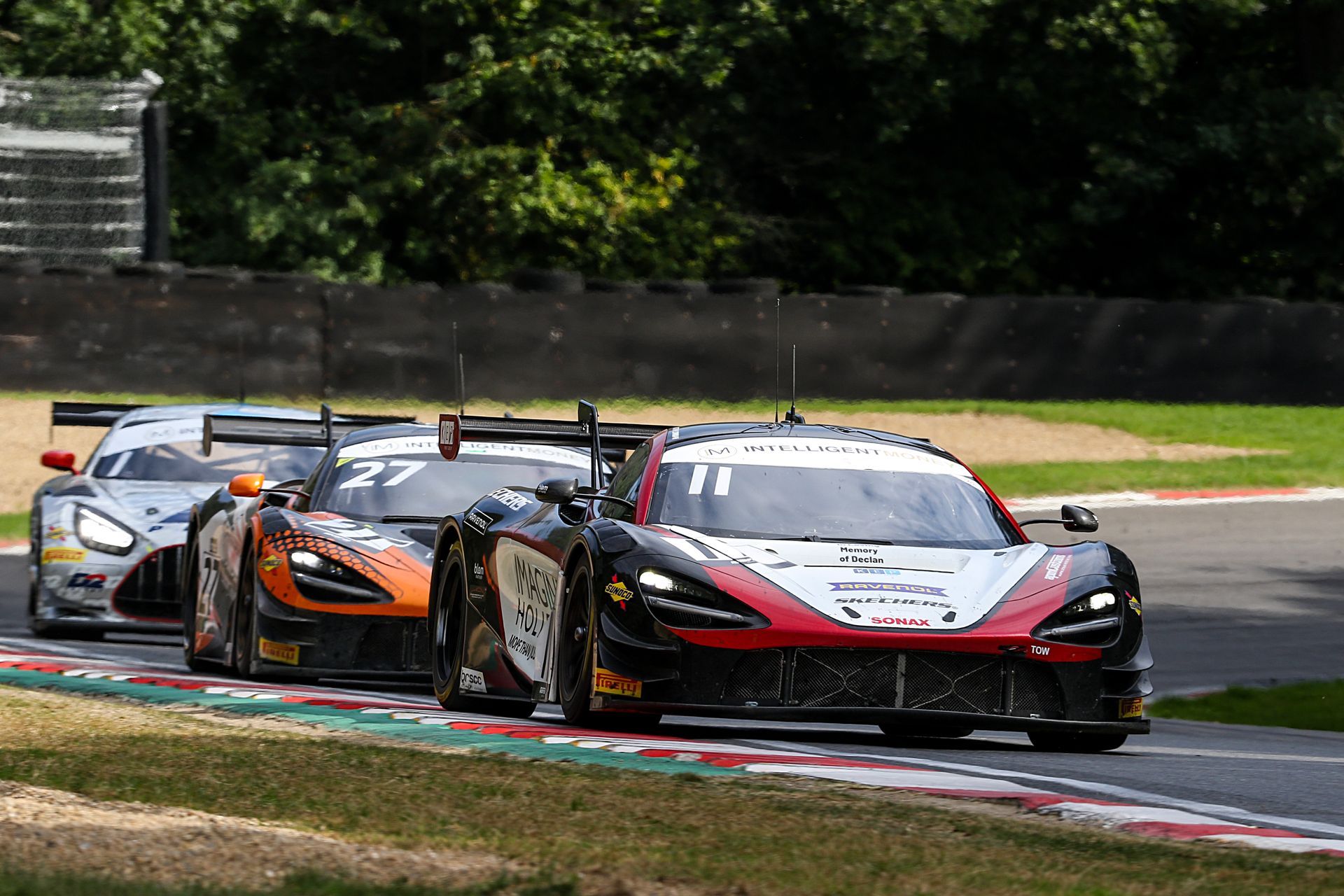 Jundu brought the car in to hand to Rawlings and another swift stop helped Rawlings rejoin in fifth before improving to fourth by the finish, Rawlings pulling well clear of the title-chasing RACE LAB Artura in the process.
Mark Smith said: "That was a wild race! It's been a challenge just learning the circuit but it's been so fun. For the race my plan at the start was to just keep things clean as I knew some people would hit trouble early on, but I didn't expect to see the Mercedes sideways in front of me! The result is still a good one and we moved forward a lot this weekend."

Martin Plowman said: "I'm mostly pleased with how the weekend went. It's a real shame about the penalty, but we still took home our best result of the season and Mark's stint was just superb. Many drivers would have lost their heads after a start incident like that, but his pace was great and he pulled off a string of great overtakes to get us back into it. My stint was tough as I was defending hard from the Mercedes and Lamborghini for much of it until the collision. But we've certainly got a lot of positives to take away from this one."

Kavi Jundu said: "It's been a weekend of two halves, with an incredibly tough Saturday and then we turned it around and came away with some great points on Sunday. The heat today made things hard work, but the car felt great on new tyres and I could race hard, but it started to get away from me a bit later in the stint with quite a lot of oversteer on corner entry, which was probably just a combination of the temperature and our lack of running to tune the setup. But Tom got in and did a great job in the second half. We went into the race just looking to have fun and move forward and we certainly did that."

Tom Rawlings added: "I've never driven in a race as hot as that! Every time I got onto a straight I was putting my hand up to the window trying to get some cool air! But overall I think we can be pleased with fourth, especially given how difficult Saturday was. The car felt good for me and I could push to the flag. It does feel like we turned a bad weekend into a good one."

The final round of the Intelligent Money British GT Championship takes place at Donington Park on October 21/22.