Automatic transmission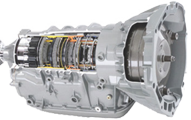 ​Did you know that up to 90% of automatic gearbox problems can be caused by using the wrong fluid? Make sure your garage isn't using so-called "multi-purpose" fluids as repairs can cost hundreds of pounds!
RAVENOL Automatic Transmission Fluids (ATF) have good viscosity, high temperature stability, high oxidation and shear stability, excellent foaming properties, extreme pressure stability and include special additives to ensure they don't just meet but actually exceed your vehicle's requirements. We offer the most comprehensive range of Automatic Transmission Fluids on the market, covering virtually every make and model of car. Here in the UK we normally stock almost 50 different fluids, with even more planned!
Trade Discounts available for bona-fide resellers and workshops - call us on 01686 650640 for details.