Automatic transmission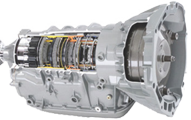 Automatic Transmission Fluids (ATF) are special lubricants for use in automatic transmissions. RAVENOL ATF's have good viscosity, high temperature stability, high oxidation and shear stability, excellent foaming properties and extreme pressure stability. In addition, RAVENOL's ATF's include special additives to ensure we don't just meet but actually exceed your vehicle's requirements.
As with engines, transmissions also vary between makes and models, and modern vehicles have state-of-the-art transmissions with sensitive parts requiring specialist products. It's for that reason that RAVENOL have the most comprehensive range of Automatic Transmission Fluids on the market, covering virtually every make and model of car: We normally stock up to 52 different fluids, with even more planned! Our products are used and recommended by leading transmission specialists in the UK, such as our long term partners Bristol Transmissions.
Did you know that up to 90% of automatic gearbox problems can be caused by using the wrong fluid? Many oil companies try to get away with supplying just 3 or 4 grades - we normally carry 52 in stock! Make sure your garage isn't using so-called "multi-purpose" fluids as repairs can cost hundreds of pounds! Ask them to show you which oil they intend to use, and if you don't trust it, buy the correct product from RAVENOL and make sure your mechanic uses it.
Trade Discounts available for bona-fide resellers and workshops - call us on 01686 650640 for details.
RAVENOL ATF ULV D-M is a Ultra Low Viscosity (ULV) Automatic Transmission Fluid (ATF), designed on the basis of PAO (Polyalphaolefin), Ester and highquality hydrocrack oils with a special additive and inhibition, developed for the latest 6, 8 and 10 speed automatic transmissions from Ford and GM.

AC Delco 10-4107
DEXRON® ULV from 2017
Ford 196825
Ford 2179795
Ford MERCON® ULV from 2017
Ford 10R80
Ford Motorcraft XT-12-QULV
Ford WSS-M2C949A
GM 10L90
GM 19352619

RAVENOL DCT-DSG LV Fluid is a modern PAO (polyalphaolefin) based, fully synthetic DCT (dual clutch transmission) oil, with a special additivation and inhibition, initially developed for the use of the third generation 7-speed dual clutch transmission by Magna GETRAG for the Daimler specification MB 239.21.

BMW 83222433157
BMW DCTF-2
Ford F-DC
Ford WSS-M2C218-A1
Great Wall GW7DCT1
Great Wall GWM 7DCT450
Hyunda 04300-2N110 WDHO-1
Kia 04300-2N110 WDHO-1
MB239.21
Renault 7711785243
Renault DW5
VW G 055 829 A2

RAVENOL ATF T-ULV Fluid is an ultra-low viscosity ATF for the latest generation of Aisin Warner automatic transmissions which improves fuel economy and guarantees a high wear protection in all operating conditions.

ATF AW-2
BMW 83 22 2 413 477 (8-Speed AT BMW GA8G45AW)
BMW ATF 7
BMW/Mini GA8F22AW
Citroen EAT8
Mini Cooper CVT
PSA 16 350 560 80 (8-Speed AT PSA AMN8/ATN8/AXN8)
VOLVO 31492172 (8-Speed AT AWF8G45)
VOLVO 31492173 (8-Speed AT AWF8G55)
VW G 053 001 A2 (8-Speed AT VW 09S (AQ300-8F)

RAVENOL Multi ATF HVS Fluid is a synthetic multi-function automatic transmission oil ATF based on highly developed synthesis technology for extended change intervals for automatic transmissions and manual transmissions, in torque converters and numerous power steering systems.

Aisin Warner Automatic Gearbox
Allison C3, Allison C4
Allison TES-389
ATF LA 2634, ATF SP-III
BMW ATF 4, BMW ATF JWS 3309
Caterpillar TO-2
Dexron® III F, Dexron® III H
DTFR 13C100 (MB 236.1), DTFR 13C110 (MB 236.11)
DTFR 13C120 (MB 236.2), DTFR 13C140 (MB 236.7)
DTFR 13C170 (MB 236.9), DTFR 13C180 (MB 236.91)
DTFR 38B100 (MB 236.3)
ESSO JWS3317, ESSO LT 71141
Fiat 9.55550-AV1
Ford M2C-138 CJ, Ford M2C-166H
Ford M2C-185A, Ford MERCON®
Ford MERCON®V, Ford Motorcraft XT-1-QF
Ford WSS-M2C138CJ, Ford WSS-M2C166H
Ford WSS-M2C185A, Ford WSS-M2C919-E
Ford WSS-M2C922-A1, Ford WSS-M2C924-A
Mazda M-III
MB 236.1, MB 236.10, MB 236.11
MB 236.2, MB 236.3, MB 236.5
MB 236.6, MB 236.7, MB 236.9, MB 236.91
Mopar
Texaco ETL 7045E, Texaco ETL 8072B
Texaco N402, Texaco TL 4634
VW TL 52025, VW TL 52162
VW TL 52990, VW TL 55025
ZF S671 090 170, ZF TE-ML 02F
ZF TE-ML 03D, ZF TE-ML 04D, ZF TE-ML 05L, ZF TE-ML 11A
ZF TE-ML 14A, ZF TE-ML 14B, ZF TE-ML 16L, ZF TE-ML 16R
ZF TE-ML 17C, ZF TE-ML 20B, ZF TE-ML 25B

RAVENOL Transfer Fluid BW 44 is a fully synthetic gear lubricant for use in electronically controlled active transfer cases.

BorgWarner 44-40
BorgWarner 44-44
BorgWarner 44-45 up to 2016
BorgWarner 44-46
BorgWarner 44-47
BorgWarner 44-48
Chrysler 300C LX
Chrysler Transfer Box 68214750AC
Chrysler Transfer Box 68214751AB
Chrysler Transfer Box 68214751AC
MB 236.16 (A 001 989 23 03)
Mercedes (A 001 989 22 03)
Mercedes Transfer Box A2032800700
Mercedes Transfer Box A2112800900
Mercedes Transfer Box A2112801000
Mercedes Transfer Box A2202800700
Mopar 68049954AC
Mopar 68049954AA

RAVENOL ATF 9HP Fluid is an automatic transmission fluid (ATF) specifically designed for use in the latest generation of ZF 9-Speed Automatic Transmissions.

Acura 08200-9016A
Acura ATF Type 3.0
ATF L 12108
ATF Type 3.1
BMW 83222167720
BMW 83222305397 (83222152426)
Fiat 9.55550-AV5
Honda 08200-9170
Land Rover LR023288
Land Rover LR023289
Mopar 68157995AB
Mopar 68218925AA
VW/AUDI G 055 162
VW/AUDI G 060 162 A1
VW/AUDI G 060 162 A2
VW/AUDI G 060 162 A6
ZF S671 090 312
ZF TE-ML 11 9HP48

RAVENOL ATF MERCON® LV Fluid meets relevant requirements of the gear oil specifications from Ford for automatic transmissions: TorqShift 6R140 (Powerstroke from 2010), TorqShift 5R110 (Ford Super Duty 2003-2009), 4R75W / E (from 2009), 6R80, 4F27E, 6F50N / 55N (from 2010), and 6F35N HF35 hybrid.

FORD MERCON®LV (Licence No. MLV161101)
Ford 1776431
Ford ATF C-ML5
FORD XT-10-QLVC
Ford WSS-M2C-938-A
Ford Motorcraft XT-10 DLV
Ford Motorcraft XT-10-QLV

RAVENOL AWD-TOR FLUID is a high quality fully synthetic formulation based on polyalphaolefins (PAO) with a special additives and inhibitors for transfer cases of Torsen type four-wheel drive systems from VW and AUDI.

SAF-AG4 + FM
VW/Audi G 055 145 A2

RAVENOL HCF-2 Fluid is a synthetic CVT (Continuously Variable Transmission) fluid designed specifically for second-generation (Honda CVT Gen2) CVT transmissions. Based on high quality base oils with Polyalphaolefin (PAO) and a special additive and inhibition, which ensure proper functioning of the gearbox.

Accord X 2017
Civic IX FB 2014-2015
Civic X FC1/FK7 2016-
CR-V IV 2014 – 2016
CR-V V 2018-
Grace / Citi GM6/GM9 2014 -
Honda 08200-HCF2,
Honda 08260-99964
Honda 08260-99967
Honda 08269-99904HE
Honda 08269-99905HE
Honda Accord IX CR 2013-2017
HR-V II2017-
Jade FR5 2014-
Jazz III / Fit GK3/GK4/GK5/GK6 2013-
Odyssey RC1/RC2 2013-
Shuttle GK8/GK9 2015-
Stepwgn RK 2012-2015
Stepwgn RP1/RP2/RP3/RP4 2015-
Vezel RU1/RU2 2012-

RAVENOL ATF Transmission Fluid is an Automatic Transmission Fluid (ATF) designed for hydrostatic and hydrodynamic systems requiring an ATF Type A Suffix A. It is a very high quality mineral gear fluid for automatic fluid couplings and torque converters as well as power steering aids. It is also suitable for turbo couplings, servo clutches and other hydrostatic/ hydrodynamic systems when used according to the unit manufacturer's guidelines.

Type A Suffix A (TASA)
ALLISON C-4
MAN 339 Typ A
MB 236.2
Renk Doromat
Cat. TO-2

RAVENOL AWD-H Haldex Fluid is a special high-performance product engineered for use in Haldex's Allrad, Quattro and 4motion powertrains and is suitable for use with all-wheel drive powertrains with Haldex couplings in AUDI, BMW, VOLKSWAGEN, SEAT, SKODA, VAUXHALL, LANDROVER and VOLVO vehicles.

GM 93165387
Land Rover LR 054941 (Haldex-Fluid from 2011-2014)
Land Rover LR 003136 (Haldex-Fluid from 2011-2014)
Opel 19 40 057
VW G 052 175 A2
VW G 055 175 A2
VW G 060 175 A2
Volvo 31367940

RAVENOL PDK Transmission Fluid is a fully synthetic automatic transmission fluid (ATF) with low viscosity using special additives that has has been developed especially for Dual Clutch Gear systems from Porsche.

Porsche PDK
Porsche 000 043 207 29
Porsche Oil No. 999.917.080.00
BMW 83222156969
BMW 83222167666 (MTF-LT-5)
Mercedes Benz MB 236.24 (A 002 989 04 03)

RAVENOL M 9-G Serie Transmission Fluid is a synthetic ATF (Automatic Transmission Fluid) with a special selection of additives and inhibitors of the newest generation developed for all 9-gear automatic transmissions (9G-Tronic) from Mercedes-Benz. Guarantees maximum wear protection and the smooth functioning of automatic transmissions under all conditions.

ATF D971

Mercedes-Benz MB

236.17
Mercedes A 002 989 06 03

RAVENOL DCT-F3 Transmission Fluid is a fully synthetic high performance dual-clutch transmission fluid especially developed for use in the 7-speed dual-clutch transmission GETRAG Powershift 7DCL750 to Daimler Specification MB 236.25.

Maintenance-free filling under normal operating conditions.

Mercedes-Benz MB

236.25
GETRAG Powershift 7DCL750

RAVENOL Dexron II E Transmission Fluid is a high performance fully synthetic automatic transmission fluid for use in torque converter and power shift transmissions of vehicles where GM Dexron II E, Ford Mercon and Allison C-4 are specified.

GM Dexron II E,
Ford Mercon
Voith 55.6336.3x Extended Drain (G1363)

Mercedes-Benz MB

236.8
Caterpillar TO-2
DTFR 13C150 (MB236.8)
Mercedes-Benz MB 236.5
MAN 339 Typ Z-2
MAN 339 Typ V-2
ZF TE-ML 04D
ZF TE-ML 09X
ZF TE-ML 14B
ZF TE-ML 16L

RAVENOL SP-IV RR Transmission Fluid is part of the new generation of ATF's (Automatic-Transmission-Fluid) from RAVENOL. It was developed for the latest 8-speed automatic transmissions from Hyundai and KIA.

Hyundai 00232-19052
Hyundai 04500-00117
Hyundai EQUUS
Hyundai GENESIS
Hyundai GENESIS Coupe
KIA MOHAVE
KIA QUORIS

RAVENOL ATF 5/4 HP Transmission Fluid is one of the modern family of automatic transmission fluids and is suitable for 4- and 5-speed ZF automatic transmissions.

Alfa Romeo 20HP 14891900
ATF LA 2634
ATF LT 71141
BMW 83229407765
BMW 83229407807
Citroën/Peugeot AL4 PR 9736.22
DTFR 13C110 (MB236.11)
Jaguar JLM 20237
Land Rover STC4863
MB 236.11
Mercedes A 001 989 22 03
Porsche 999.917.547.00
Renault DP0
VW TL52162
VW/Audi G052162 A1
VW/Audi G052162 A2
VW/Audi G052162 A6
ZF S671 090 170

RAVENOL ATF+4® Transmission Fluid is designed for the latest automatic transmission for Chrysler, Dodge, Plymouth, Jeep and Eagle vehicles, and is approved and licensed by DaimlerChrysler to ensure warranty compatibility. It is also miscible and backwards compatible with the requirements of all ATF+2® or ATF+3® transmission oil applications where required.

Licence-No. 40630041 FCA US LLC (formerly Chrysler Group LLC)

Chrysler MS-9602
Fiat 9.55550-AV4
Mopar 68218054GA
Mopar 68218057GA
Mopar 68218058GA

RAVENOL CVTF NS2/J1 Transmission Fluid is especially developed for the latest JATCO CVT transmissions and ensures maximum wear protection in all operating conditions.

Mitsubishi S0001401
Nissan CVT NS-2
Nissan KLE52-0002
Nissan KLE52-0004
PSA Standard 9735EF
Suzuki CVT Fluid Green-1 99000-
22B15-046

RAVENOL DCT/DSG Transmission Fluid has been developed especially for Dual Clutch Transmissions and Direct Shift Gearboxes of several manufacturers.

Audi G052529 A2 S-Tronic
BMW 83220440214
BMW 83222147477
BMW 83222148578
BMW 83222148579
BMW 83222446673
BMW DCTF-1
BOT 341
Chrysler 68044345 EA
Citroën/Peugeot 9734.S2 for DCS6
Drexler DSG-Transmission with Miba-Carbon-Discs
DTFR 13C130 (MB 236.21)
FIAT 9.55550-MZ6 for TCT (Twin Clutch Transmission)
Ford 1490761
Ford 1490763
Ford USA XT-11-QDC
Ford WSD-M2C200-D2
Ford WSS-M2C936-A
MB 236.21
MITSUBISHI Dia-Queen SSTF-I
MITSUBISHI MZ320065
Renault EDC (Efficiency Dual Clutch System), VOLVO 1161838
VOLVO 1161839
VW G 052 182 A2
VW G 052 513
VW G 055 529 A2

RAVENOL J2/S Transmission Fluid is a fully synthetic automatic transmission fluid for all 5, 6 and 7 speed JATCO Renault, Nissan, Mitsubishi transmissions.

Mitsubishi 4031610 ATF Fluid J3
Mitsubishi MZ 313771 ATF Fluid J2
Nissan 999MPMTJ00P Matic Fluid J
Nissan 999MP-MTS00P Matic Fluid S
Nissan KE908-99932 Matic Fluid J
Nissan KLE2300002 Matic Fluid J
Nissan KLE24 00002 Matic Fluid S
Renault Matic J6