Environmental Impact
One of our Core Values here at Ravenol is being 'Responsive', we strive to meet the highest standards of society by being responsive to external changes. One important change to the external environment is climate change, since 1880 the earth's average temperature has risen just over 1 degree celsius. Without action, the earth's average global temperatures are predicted to increase between 1.1 to 5.4 degrees celsius. What does this exactly mean? Ice glaziers are melting, pushing the sea levels higher, oceans are warming and becoming acidified, resulting in marine animals becoming extinct, and many more. As such, every individual and organisation needs to take action to stop forever-lasting damage to our environment.
What is Ravenol doing to support climate change?
---
TRANSPORTATION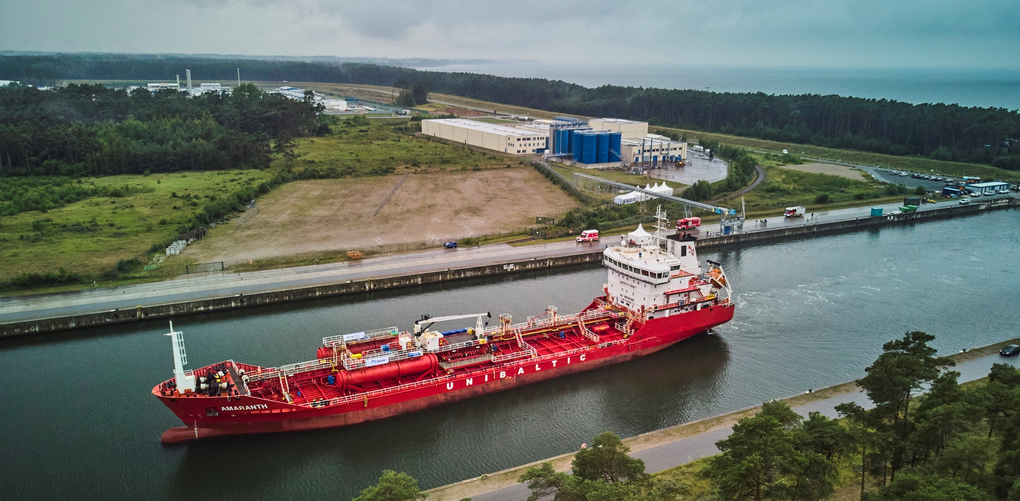 In 2020, Ravenol announced that Deutsche Ölwerke Lubmin GmbH (which is part of the Ravenol Group) commissioned its jetty, where the first tanker was welcomed. The tanker was named the "Amaranth" tanker, which is for IMO Types II and III and is specially designed for transporting petrochemical products, with a length of 109 metres and a width of 17 metres. The total load-bearing capacity of this ship is more than 6,400 tonnes and is equivalent to the amount delivered by around 300 tanker trucks, therefore greatly reducing their the carbon footprint during transportation. For more information, read our article here.
With the new tanker unloading facility, raw materials arriving by sea are directly pumped into the existing base oil storage facility consisting of several tanks via an intelligently integrated pipeline bridges.
---
SUSTAINABLE CODE OF CONDUCT
Ravenol have set out a Sustainable Code of Conduct 'Environmental Protection' to bear responsibility for continuously improving the environmental compatibility of Ravenol products and conservative use of natural resources bearing economic aspects in mind. Ravenol's products, services and processes are designed to be environmentally sound. In all activities, Ravenol want to proactively avoid harmful effects on the environment. Ravenol use resources and energy economical and strive to minimize waste, sewage, noise and other emissions and produce eco-friendly products, looking at the entire lifecycle.
---
RAVENOL'S ENVIRONMENTAL POLICY
The protection of the environment is the second major component of Ravenol's corporate mission. By creating and sustaining a safe, health-orientated and performance-driven working environment, and operating a proactive environmental protection policy, Ravenol can contribute to the continuance and success of our company. Ravenol's engagement in this regard is regularly affirmed by the Technical Inspection Authority, issued in the form of a certificate in line with DIN EN ISO 14001:2009. The following basic principles therefore apply:
Efficient environmental management
Ravenol's environmental management system is constantly being improved by regularly examining the implementation of its guidelines and the success of its management system in all areas.
Safe and employee-friendly workstations
Ravenol are convinced that all work-related accidents and workplace illnesses are, in fact, avoidable. Motivated employees and supervisors support Ravenol in its mission towards the elimination of work-related accidents. Ravenol consider the protection of its employees and contractors to be of equal importance. The design of Ravenol's workstations and operational procedures reflect the latest levels of understanding and attribute a high degree of importance to the ergonomic design of its workstations.
Reliable conduct
Ravenol are devoted to adhering to all laws and requirements on the subject of workplace and environmental protection. Ravenol act responsibly towards our own rules, which often go above and beyond the legal stipulations. Ravenol plans, buys, operates and maintains its own machines and pieces of equipment in such a manner that all possible dangers can be excluded, risks can be minimised and disruptions in operation can be avoided, and are constantly seeking the latest updates in technology.
Low environmental impact and eco-friendly products
In all of its activities, Ravenol aims to use foresight to avoid damaging effects on the environment by using raw materials and energy sparingly. Ravenol strive to produce as little waste material, waste water, noise and other emissions wherever it is possible. With the life cycle in mind, all the products Ravenol manufacture are eco-friendly.
Responsible-minded employees
By imparting regular information, instruction and advanced training, Ravenol are able to further the skills and awareness of its employees and business partners in the interest of safe working procedures and environmental protection in all sectors of the company.
The company is actively developing CIP (Continuous Improvement Process) even further, which has already been introduced and works by rewarding suggestions for improvement, through its cooperation with workers and staff members, and as a consequence the image of the company at the same time.
Preventative measures
Ravenol protects its employees from health-related disturbances and environment from damage by implementing wide-ranging preventative measures. Ravenol therefore guarantees a comprehensive and effective emergency care provision against injuries for all its employees and visitors.
In doing so, Ravenol upholds its responsibility towards its employees and towards the generations of the future.